Chimney Repointing and Capping in Massachusetts: Preserving and Protecting Your Chimney
If you're in Massachusetts and seeking expert Chimney Repointing and Capping services, you've come to the right place. At NorthEast Industrial Roof, we understand the importance of preserving and protecting your chimney against the elements and structural wear. Allow us to guide you through the crucial process of preserving your chimney's integrity.
                         Free Chimney MA

 Estimate: Call 

(781) 874-0248

 Today!




The Significance of Chimney Repointing
Chimney repointing is a crucial maintenance task that involves repairing the mortar joints between the bricks or stones of your chimney. Over time, these joints can erode due to exposure to harsh weather conditions. Repointing not only enhances the structural integrity of your chimney but also rejuvenates its appearance.
Why You Need Chimney Repointing
Preventing Water Infiltration:

Damaged mortar joints can allow water to seep into your chimney, leading to potential structural damage and costly repairs.

Restoring Aesthetics:

Repointing gives your chimney a fresh, clean look, enhancing the overall appearance of your home.

Ensuring Safety:

Crumbling mortar can pose a safety hazard, as it may result in loose bricks or stones falling from the chimney.

Preserving Longevity:

Repointing helps extend the lifespan of your chimney, ensuring it serves its purpose for years to come.
The Importance of Chimney Capping
Chimney capping is another vital aspect of chimney maintenance. A chimney cap is a protective covering installed at the top of your chimney. Its primary functions are to keep out rain, snow, animals, and debris while preventing sparks from escaping your chimney and posing a fire hazard.
Advantages of Chimney Capping
Weather Protection

: A chimney cap shields your chimney from the elements, preventing moisture from seeping into the masonry and causing damage.

Animal Deterrence:

Birds, squirrels, and other critters often see chimneys as cozy nesting spots. A chimney cap keeps unwanted guests out.

Sparks and Debris:

It prevents sparks from your fireplace or wood-burning stove from landing on your roof and igniting a fire. Additionally, it blocks leaves and debris from clogging your chimney.

Extended Chimney Life:

By minimizing exposure to moisture and other elements, a chimney cap can significantly extend the lifespan of your chimney.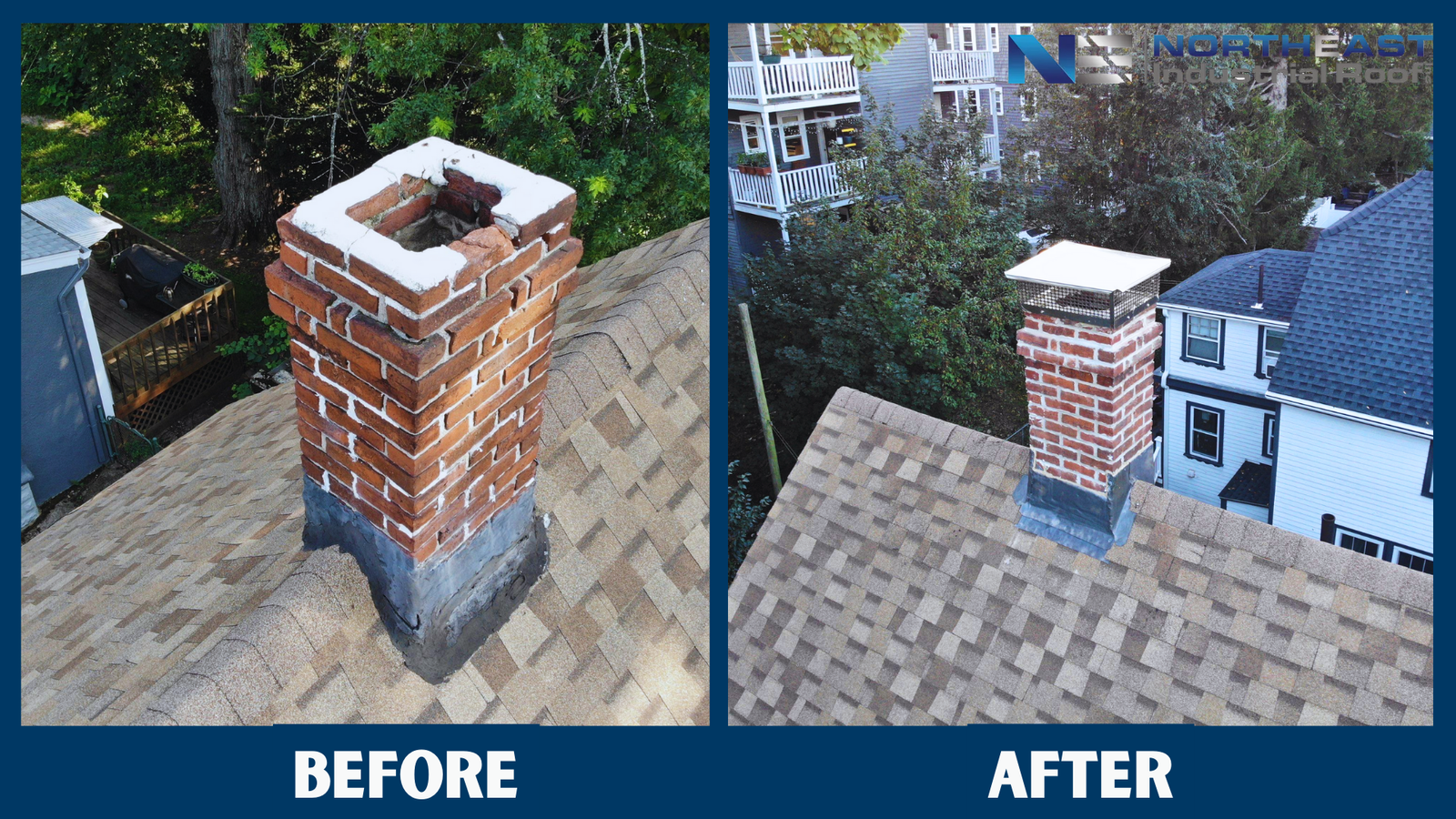 Choose a Trusted Chimney Repointing and Capping Expert in Massachusetts
When it comes to preserving and maintaining your chimney, trust the experts at NorthEast Industrial Roof. We have been serving homeowners in Massachusetts since 2013, offering a wide range of chimney services, including repointing and capping.
Licensed, Insured, and Committed
NorthEast Industrial Roof is licensed and insured, ensuring that your Chimney Repointing and Capping projects are handled with the utmost professionalism and care. We are deeply committed to delivering top-quality work that not only enhances the functionality of your chimney but also adds to the beauty of your home.
Trusted Partnerships
NorthEast Industrial Roof maintains trusted partnerships with esteemed roofing manufacturers such as GAF Master Elite Roofing, Carlisle, Certainteed, and more. These partnerships allow us to provide you with the highest-quality materials and products for your chimney projects.
Accredited by the BBB
Our dedication to excellence has earned us accreditation by the Better Business Bureau (BBB), reflecting our commitment to providing exceptional service and customer satisfaction.
5-Star Reviews
We take pride in our reputation for 5-star reviews from satisfied customers. Our commitment to quality and customer service is second to none.
Browse Our Portfolio
Explore our portfolio to see the results of our Chimney Repointing and Capping projects. We take great pride in the work we do and are eager to showcase our craftsmanship.
Stay connected with us on social media. Follow us on Facebook and check us out on Yelp to stay updated with our latest projects and customer reviews.
Don't wait until chimney issues become major problems. Contact us Roof today for all your Chimney Repointing and Capping needs in Massachusetts. Trust us to safeguard your chimney, your home, and your peace of mind.
We proudly serve the following areas:
Trust NorthEast Industrial Roof to be your preferred chimney service provider in Massachusetts.
Northeast Industrial Roof is standing by to answer any commercial roofing questions you may have.