BOSTON COMMERCIAL ROOFING SNOW & ICE REMOVAL SERVICES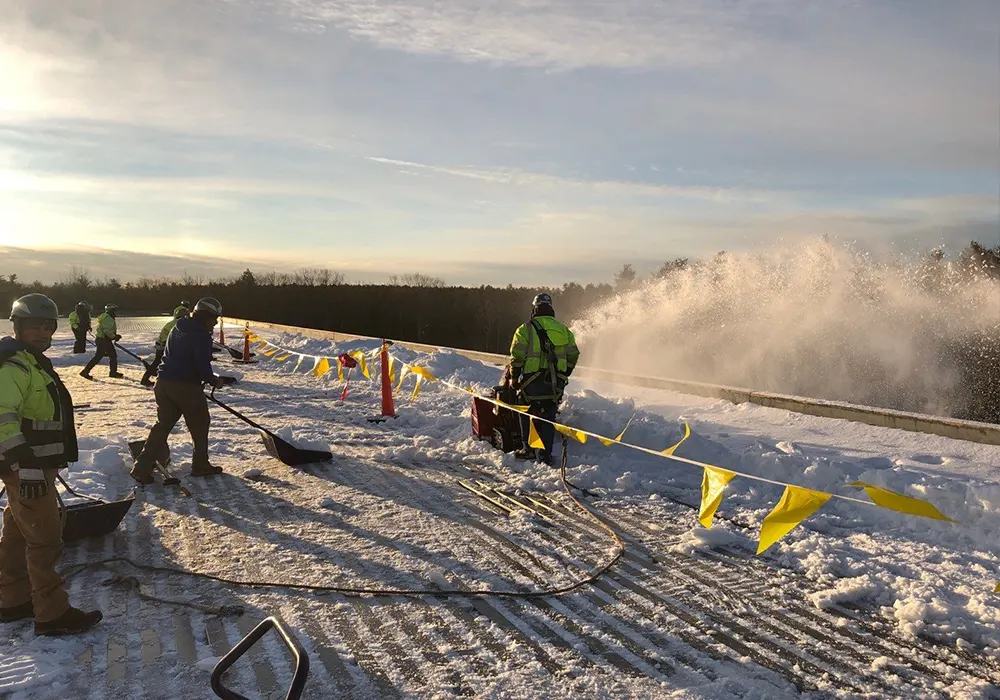 While your commercial roof is protecting you, your employees and your equipment from the elements, it is also shouldering the burden of snow accumulation on your roof. The weight of the snow puts a great deal of stress on your roof and thus, your building's structure.
In the winter season, your roof requires special attention — snow and ice removal and preventive measures. Northeast Industrial Roof offers professional and efficient snow removal services that will help keep your commercial building safe for your customers and employees so that you can continue with business as usual.
Why Use Our Snow & Ice Removal Service?
If you're in a location in which you experience heavy or frequent snows during the winter months, snow and ice can wreak havoc on your business. It can cause customers to stay home rather than going out, resulting in lower revenue, prompt employees to stay home, which impacts productivity, or even cause accidents that you're liable for. But the worst impact that winter weather can have on your business is the potential for structural damage caused by the weight of accumulated snow and ice.
Prompt and effective snow removal is crucial to keeping your business running as smoothly as possible during harsh winter weather. Failing to remove snow can result in the aforementioned negative impacts, and trying to remove snow from your roof yourself can result in damage to the roof and its peripheral components (such as skylights or HVAC units) as well as severe bodily injury.
Safe & Proper Snow Removal

Northeast Industrial Roof
Snow & Your Roof

What You Should Know
Commercial Snow Removal FAQs
Whether you need an inspection, snow removal or roof repair for your commercial roof, give us a call at
781-874-0248
. We can often come out the next day, and in some cases, we can arrange for same-day service. Protect your investment by trusting your commercial roof snow removal to the experts at Northeast Industrial Roof.