Chimney Flashing Services in Massachusetts
When it comes to safeguarding your home against the elements, one crucial aspect that often goes unnoticed is Chimney Flashing. In Massachusetts, where the weather can be unpredictable and harsh, the importance of Chimney Flashing cannot be overstated. NorthEast Industrial Roof is your trusted roofing Massachusetts partner in ensuring the longevity and functionality of your residential chimney, offering a comprehensive range of Chimney Flashing Services that are tailored to meet the unique needs of homeowners across the state.
                         Free Chimney MA

 Estimate: Call 

(781) 874-0248

 Today!
Understanding the Importance of Chimney Flashing
Chimney Flashing, often overlooked by homeowners, plays a crucial role in maintaining the integrity of your chimney and preventing water infiltration. In Massachusetts, where the weather can be unpredictable, proper Chimney Flashing is vital to protect your home from potential water damage and costly repairs.
Chimney Flashing is the thin strip of material, usually made of metal, that seals the gap between your chimney and the roof. Its primary purpose is to keep water out and maintain a watertight seal. Without adequate Chimney Flashing, rain, snow, and ice can find their way into your home, causing structural damage and mold growth.
Our Specialized Chimney Flashing Services
At NorthEast Industrial Roof, we understand that every chimney is unique, and our skilled professionals are well-equipped to handle all types of Chimney Flashing projects in Massachusetts. Here's how we excel in delivering top-notch Chimney Flashing services:
1. Assessment and Inspection
Before starting any Chimney Flashing project, our experts conduct a thorough assessment and inspection of your chimney's condition. This step helps us identify any existing issues or potential problems that need attention. We believe in a proactive approach to chimney maintenance to save you time and money in the long run.
2. Customized Chimney Flashing Solutions
No two chimneys are the same, and that's why we offer customized Chimney Flashing solutions tailored to your specific needs. Our team selects the appropriate materials, such as copper, aluminum, or stainless steel, to ensure longevity and durability. We take into account the architectural style of your home and the local climate to provide you with the best possible Chimney Flashing solution.
3. Expert Installation
Our experienced technicians are well-versed in the intricacies of Chimney Flashing installation. We pay meticulous attention to detail to ensure a seamless, leak-free transition between your chimney and roof. Our goal is not only to provide functional Chimney Flashing but also to enhance the aesthetic appeal of your home.
4. Repairs and Maintenance
If you already have Chimney Flashing in place but suspect it's not performing optimally, our team can assess the situation and make necessary repairs. Regular maintenance is essential to extend the lifespan of your Chimney Flashing and prevent water damage.
5. Weather Resistance
Massachusetts experiences a range of weather conditions throughout the year, from heavy snowfall in the winter to rain and humidity in the summer. Our Chimney Flashing solutions are designed to withstand these extreme weather conditions, ensuring your chimney remains protected year-round.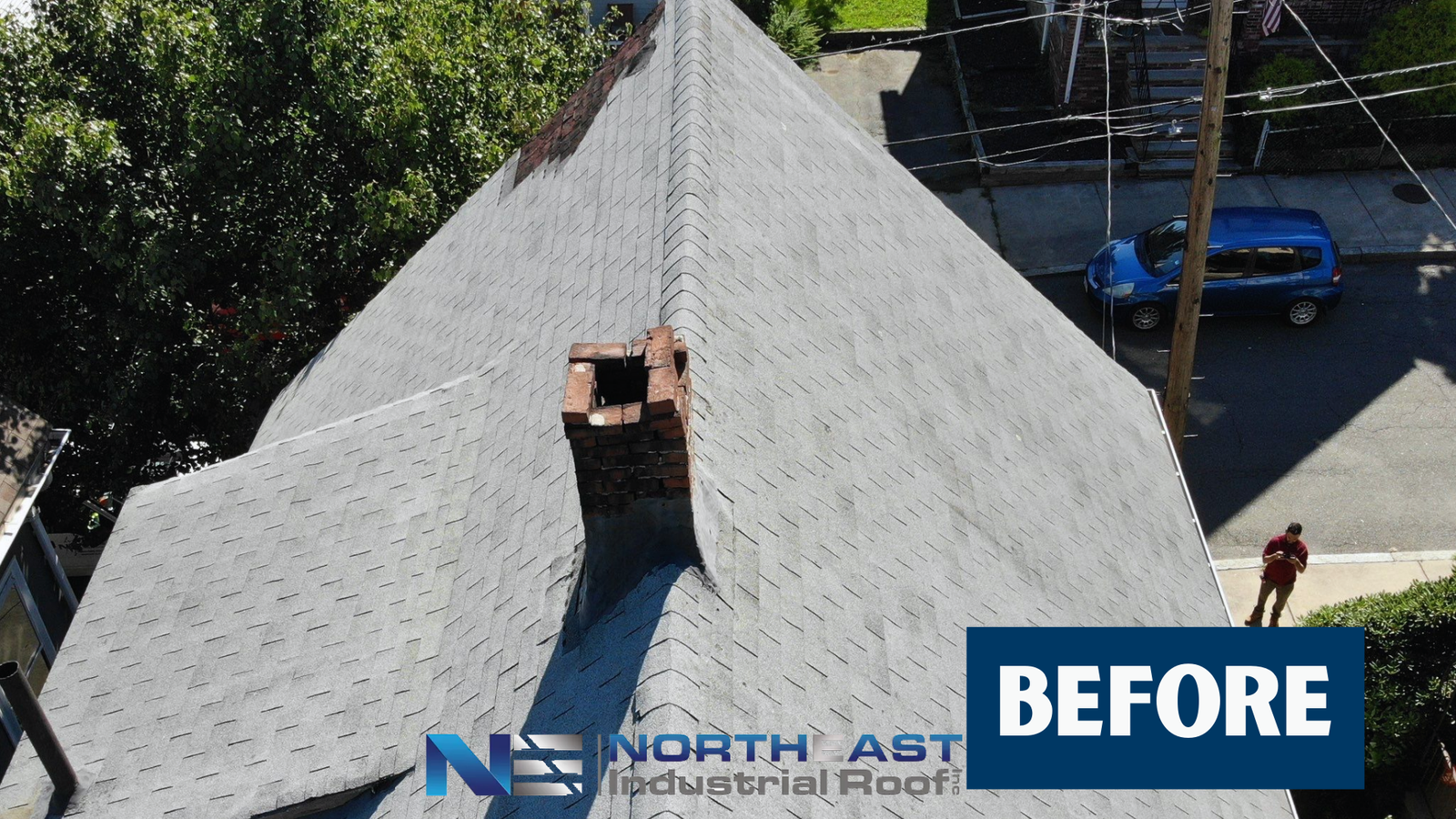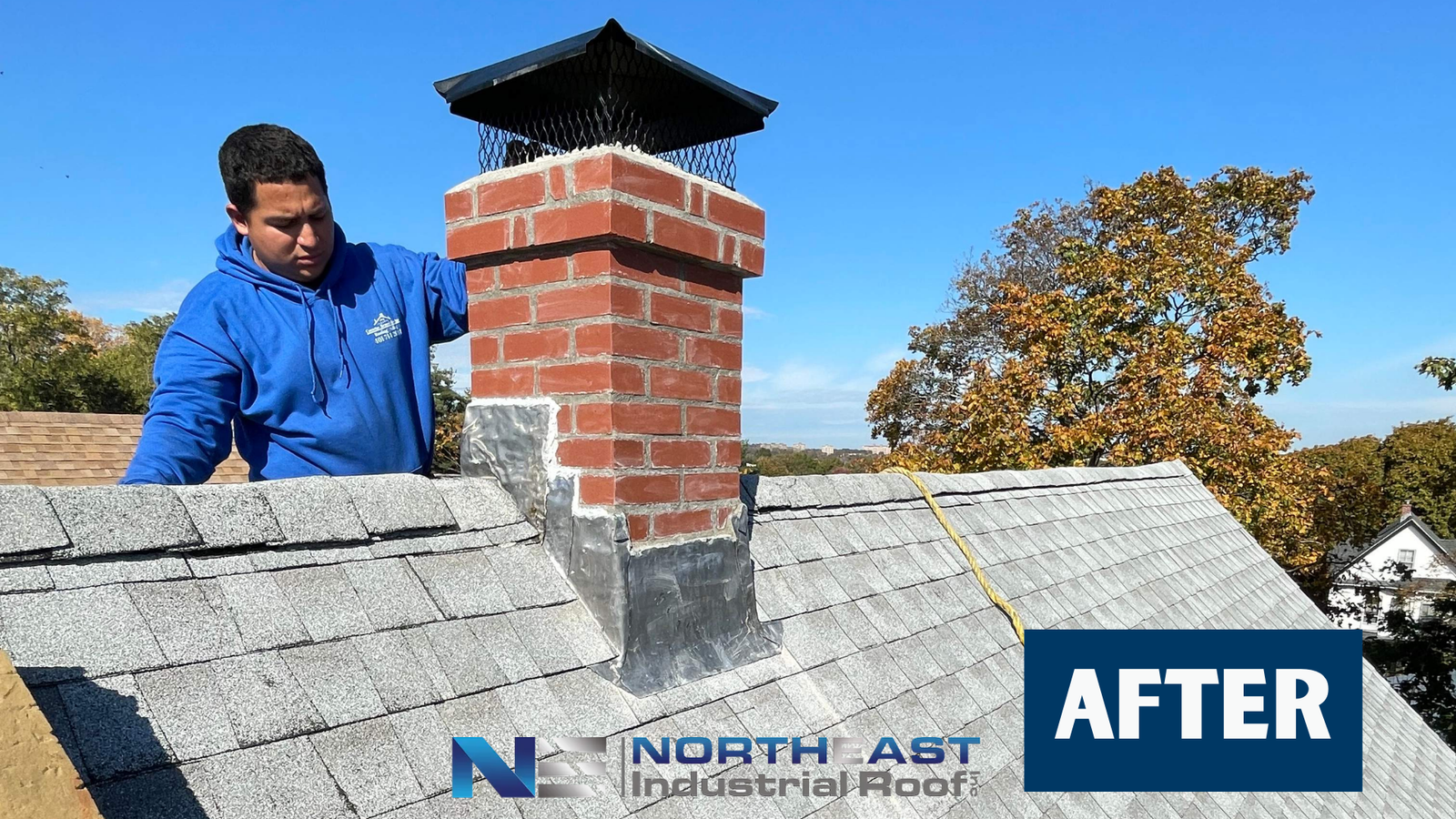 Our Extensive Roofing Services in Massachusetts
At NorthEast Industrial Roof, we offer a comprehensive range of roofing services tailored to your Massachusetts home. These include:
From roofing Massachusetts solutions to exterior enhancements, we provide a one-stop solution for your residential needs.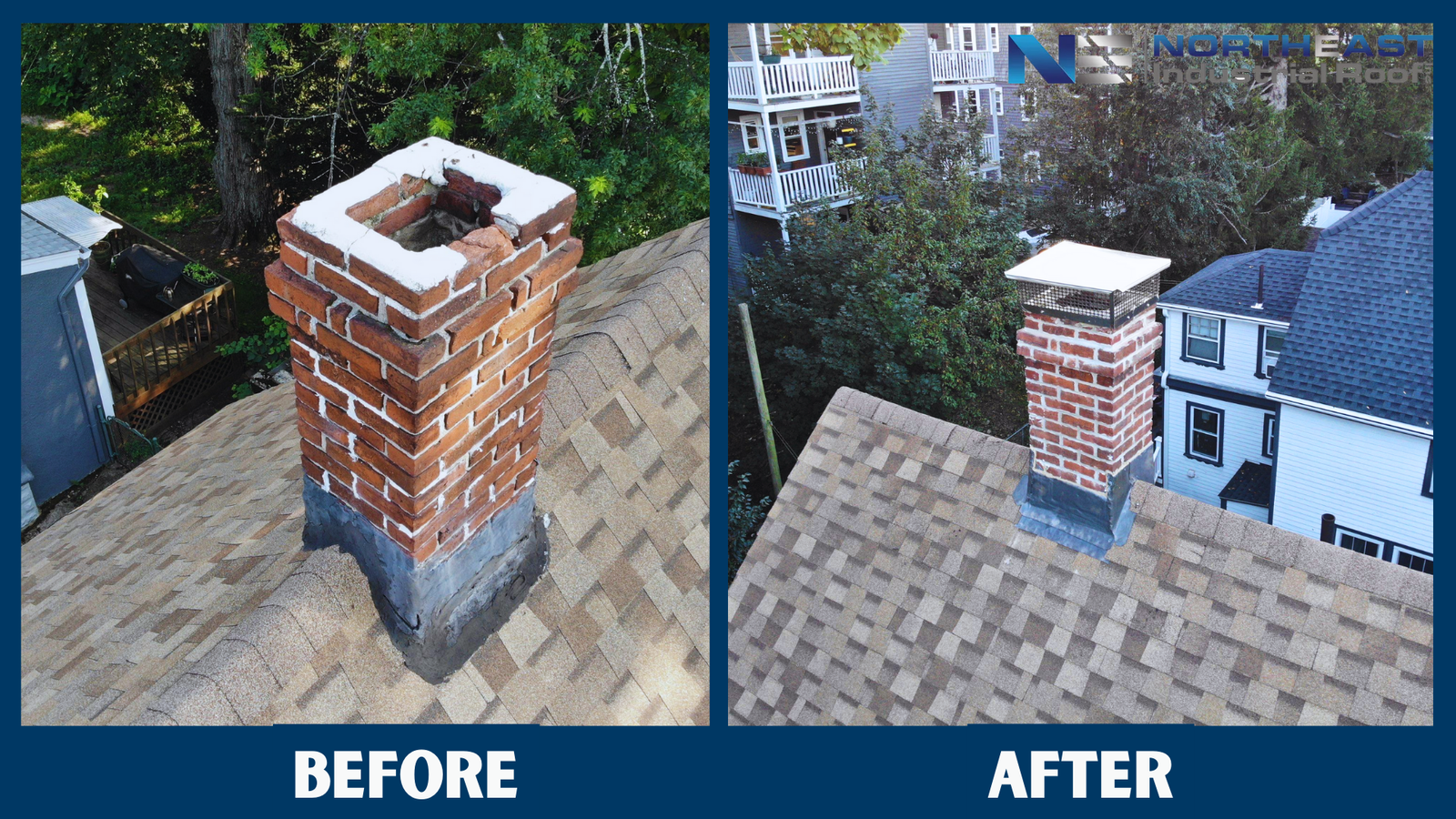 Reputable Roofing Contractor for Your Chimney Flashing Solutions 
When searching for the best roofing partner in Massachusetts, NorthEast Industrial Roof has been a trusted name since our founding in 2013. We are licensed, insured, and deeply committed to delivering exceptional service. Our dedication to excellence has earned us accreditation by the Better Business Bureau (BBB) and a reputation for 5-star reviews from satisfied customers.
Browse our portfolio to see our past projects and the quality of our work. We take pride in our trusted partnerships with esteemed roofing manufacturers such as GAF Master Elite Roofing, Carlisle, and Certainteed. These partnerships allow us to offer you the highest quality roofing materials and products.
Connect with us on social media; follow us on Facebook and check us out on Yelp to stay updated with our latest projects and customer reviews.
Contact us today for all your roofing needs in Massachusetts. We proudly serve the following areas:
Trust NorthEast Industrial Roof to be your preferred chimney flashing service provider in Massachusetts.
Don't wait until a Chimney Flashing-related issue becomes a major problem for your Massachusetts home. Contact us at (781) 874-0248  today for all your Chimney Flashing needs. Our team is prepared to assess, install, repair, or maintain your Chimney Flashing, ensuring that your home remains impeccably protected from water damage and other potential issues. Get in touch with us today for a free consultation and quote. 
Northeast Industrial Roof is standing by to answer any commercial roofing questions you may have.