Roof Curbs FOR COMMERCIAL BUILDINGS
Northeast Industrial Roof commonly receive calls from commercial building owners who made the mistake of hiring a non-roofing contractor to install or replace after-market roof curbs, which ended up being ill-fitted, substandard quality or simply poorly sealed, allowing air and/or water to enter the penetrations and causing airflow and moisture-related problems.
To guarantee your commercial roof remains safe and functional for the life of the roof system, your best option is to call a commercial roofer who can install fully-welded and assembled custom roof curbs that are properly fitted to your building's roof-mounted components.
The roofers at Northeast Industrial Roof are specially trained, highly experienced and duly licensed to perform any roofing task for your commercial building. To learn more about how Northeast Industrial Roof can provide safety and functionality for your commercial building with quality roof curb installation, contact us today by calling: (781) 874-0248.
Roof curbs are elevated support structures resembling pedestals that are designed explicitly to anchor and properly distribute the weight of the building's rooftop fans, ventilators and other rooftop-packaged units. A well-designed and properly-installed roof curb provides adequate support for the intended loads and helps to prevent water from entering the penetrations.

Though this might come with a little bit more up-front cost, you'll increase the longevity of your roof system as well as provide the protection of proper attachment of your rooftop equipment. Over the life of the roof system, you will actually find that the slightly higher upfront cost of a job done right results in overall cost savings.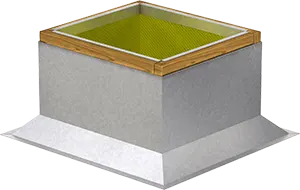 Roof curbs are available in dozens of styles for just about any type of roof. Some of the most commonly-used curb styles are as follows:
The curb types above are the most common in the commercial roofing industry, but there are a nearly infinite number of specialized styles for specific applications, such as seismic, acoustic and wind-related situations.
How to Choose the Right Roof Curbs for Your Commercial Roof
While there are many choices available in terms of roof curbs for commercial roofs, you most likely won't have to worry about choosing the correct one, as your roofers will use their expertise to analyze your roof's needs and ensure that the proper roof curb is installed.
These considerations are of vital importance, as they tell your roofer which type of roof curb will be both utilitarian and safe for decades to come.

It's important to keep in mind that installation of roof curbs is not a job for roofers alone; in fact, some applications require more than one trade to complete, with some needing three or more different subcontractors. For example, mechanical applications such as those involving exhaust fans, HVAC units or other electrical components require an electrician; similarly, applications that include skylights, hatches or other architectural features require an architect to be on hand.

No matter how large or small your commercial building's roof is, structural reinforcements are important to make sure your building's rooftop fans, HVAC units and other roof-mounted components are securely attached using roof curbs to ensure the safest possible building.
Our Boston roofing team has the experience, the resources and the expertise to get your commercial roof done right the first time. Give us a call or submit a request for a free estimate online.