From Industrial to Residential Projects: Your Go-To Contractor for Comprehensive Roofing Winchester MA Solutions
As the leading roofing Winchester MA contractor, Northeast Industrial Roof takes great pride in providing exceptional services for commercial-industrial, and residential properties. Our team of skilled roofing Winchester MA professionals is dedicated to ensuring the integrity and longevity of your roof, offering you peace of mind and a secure investment.
Whether you need roof installation, roof replacement, roof repair, roof inspection, roof restoration, or roof maintenance, Northeast Industrial Roof has got you covered with our unwavering professionalism and expertise. We are committed to exceeding your expectations and ensuring that your property remains well-protected for years to come.
Commercial Roofing Winchester MA Contractor
When it comes to commercial roofing, we are the experts you can trust. We offer a comprehensive range of services to cater to the unique needs of businesses in Winchester and the surrounding areas. Whether you require EPDM Rubber Roofing, TPO roofing, PVC roofing, Green roofs, Flat roofs, Metal roofs, waterproofing and coatings, or any other commercial roofing system, we have you covered. Our expertise also extends to specialized services like snow removal, condo roofing, roof curbs and skylights, solar energy systems, cool roof technology, single-ply roofing, and roof insulation. 
From small businesses to large industrial complexes, we have the expertise and resources to handle projects of any size and complexity. We understand the importance of a reliable and durable roof for your commercial property, and we are committed to ensuring its integrity through our exceptional craftsmanship and superior materials. With our top-of-the-line solutions, we ensure that your commercial property is protected and stands the test of time.
Finest Residential Roofing Solutions in Winchester MA
Northeast Industrial Roof, the top-notch roofing Winchester MA contractor, provides premier residential solutions for your home. Our skilled team delivers exceptional craftsmanship and attention to detail, ensuring a stunning and protective residential roof. We offer installation, repair, and replacement of high-quality shingle, EPDM rubber, metal, and slate roofs. Custom gutters, skylight installation, emergency repairs, fascia board/trim installation, chimney services, and deck/siding transformations are also part of our comprehensive services. Our roofing contractors hold the Technician Seal of Safety , ensuring your family's security. No matter the job size, we guarantee satisfactory results, leaving your roof in optimal shape for protection from the elements. Trust us for the best roofing solutions tailored to your unique requirements.
Restoring Homes in Winchester MA: Your Ultimate Residential Roof Repair Contractor
When your residential roof is damaged, you need a reliable roofing Winchester MA team to restore its functionality and beauty. At Northeast Industrial Roof, we specialize in residential roof repair services in Winchester MA and the surrounding areas. Our skilled technicians will diagnose the problem and provide you with tailored solutions to address it effectively. From minor leaks to extensive damage, we have the expertise to restore your roof and protect your home.
Top Choice for Roof Maintenance in Winchester MA: Dedicated Contractor for Optimal Care
Ongoing
roof maintenance Winchester MA
is a strong preventative action to secure your home or business. It is about protecting your very valuable investment. When your roof is properly maintained, you not only benefit from an increased life expectancy of your roof but also preparation for major roofing expenses.
When your roof starts to severely leak and there was no major event that could have contributed to it, that could mean that it has reached a stage of extensive damage. And when this occurs, it means comprehensive and expensive repairs. But, if you had an ongoing roof maintenance contract with a specialist roofing company, this could have been prevented. Only thinking about the roof when you have a problem or when a major natural event is about to happen is never a good idea. Practice safe measures. Employ an Winchester roof maintenance contractor from Northeast Industrial Roof and enjoy a solid maintenance package designed with your needs in mind.
Roof Replacement in Winchester MA: Premier Contractors You Can Trust
If your roof is showing signs of wear and tear, it might be time for a replacement. At Northeast Industrial Roof, we specialize in seamless roof replacement for commercial, industrial, and residential properties. Our experienced roofing Winchester MA contractors will guide you through the entire process, from assessing your needs to selecting the perfect roofing materials. With our meticulous attention to detail and commitment to excellence, we ensure a smooth transition and a roof that enhances the value and aesthetics of your property.
Enhance Your Home with Superior Roof Installation in Winchester MA
Looking to enhance your home's curb appeal and functionality? Our superior roof installation services are just what you need. Our team of roofing Winchester MA professionals will work closely with you to understand your vision and recommend the best roofing Winchester MA materials and styles to suit your home's architectural design. With our precision installation techniques and process, we ensure a durable and aesthetically pleasing roof that complements your property.
Professional Inspections in Winchester MA for Commercial, Industrial, and Residential Buildings
Regular roof inspections are of utmost importance in maintaining the integrity and longevity of your roofing system. At Northeast Industrial Roof, we offer professional inspection services for commercial, industrial, and residential buildings in Medford and the surrounding areas. Our experienced inspectors will thoroughly assess your roof, identify any potential issues, and provide you with a comprehensive report. By detecting problems early on, we can help you avoid costly repairs and ensure that your roof remains in optimal condition.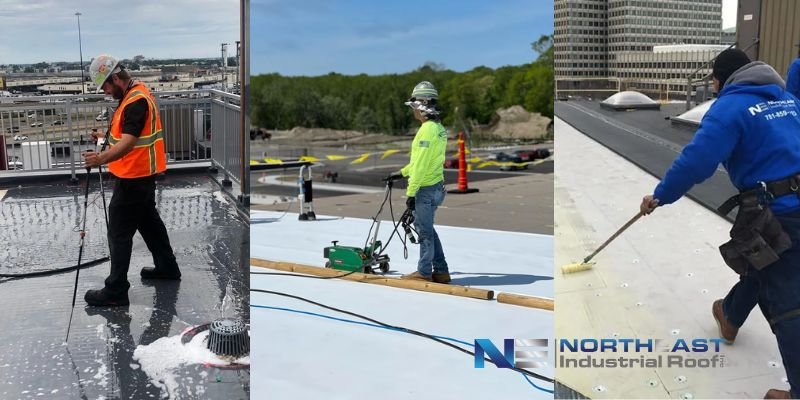 Winchester MA's Top Choice: Professional and Trusted Roofing Services
Discover Northeast Industrial Roof, your top-choice roofing contractor in Malden MA. With full licensing, insurance, and a commitment to delivering excellence, we prioritize your needs with unmatched customer service and top-quality workmanship. Our partnerships with esteemed manufacturers like GAF Master Elite Roofing, Carlisle, Sika, and more ensure state-of-the-art materials and comprehensive warranties for your peace of mind. Contact us today to discuss your roofing needs and schedule a consultation. Experience first-class roofing solutions for durability, longevity, and absolute satisfaction. Count on us to be there for you, with updates on Facebook and honest reviews on Yelp.
Northeast Industrial Roof is standing by to answer any commercial roofing questions you may have.