EPDM Roofs in Massachusetts
COMMERCIAL EPDM ROOFING MEMBRANES
EPDM, or ethylene propylene diene terpolymer, is a synthetic rubber material commonly used in low-slope roofing membranes. EPDM is popular among roofers and building owners due to its relatively low price point, quick installation and ease of maintenance. The material is created primarily from recycled tires – and is remarkably lightweight – and can be laid out in sheets or rolled out in sections available in a range of widths, from 7.5 to 50 feet and choice of thicknesses, from 45 mils to 90 mils.
Known by many as "rubber roof," EPDM is widely revered in the roofing industry for its long useful life, low carbon footprint and different assembly method options. While EPDM is commonly used in commercial and industrial roofing, this material's versatility enables it to also be utilized for residential purposes such as carports or roof patios. Regardless of the building it's installed on, EPDM has great potential in areas such as reflectivity, cost savings and low maintenance. If you want to learn more about energy efficient roof options, visit our page on Cool Roof Technology.
Performance & Sustainability
EPDM is very popular as a
Greater Boston roofing
option. EPDM is typically available in black, but it can be coated with white acrylic paint containing titanium dioxide for higher UV reflective ability. This helps to keep the building cool, increases energy efficiency and adds to the length of the useful life of the roof. EPDM, or "rubber roofing," can last 40-50 years if properly installed and maintained and is able to stand up to extreme weather variations ranging from -40℉ up to 300℉.
EPDM's layered composition is extraordinarily durable, with high resistance to fire, thermal shock, punctures, rain and wind. If damage does occur, it's fairly easy to fix using a patch or a layer of liquid membrane.
Configurations

EPDM Roof Assembly Options
EPDM has several assembly methods to choose from, depending on the needs of the building owner, but the most popular methods are fully adhered and mechanically fastened.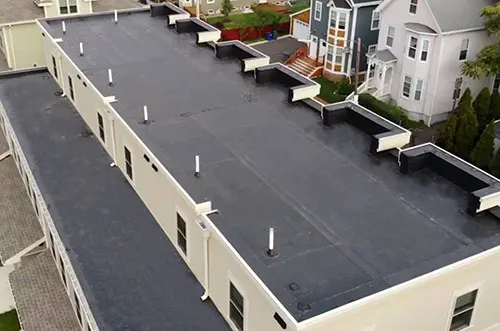 Fully-adhered systems are typically installed using large sheets of EPDM, reducing the number of edges and eliminating nearly all possibility for the wind to penetrate the edges and lift the roofing materials off of the building. Fully-adhered systems are versatile; they are recommended for buildings of all sizes and configurations, including high-slope applications. The fully-adhered system is lightweight, strong and has seen technological advancements in recent years, making this system one of the most popular choices in many regions.
Sheets of insulation are adhered or mechanically fastened to the decking
Sheets of EPDM are attached to the insulation using bonding adhesive, with the sheets' edges overlapping one another.
Seams are sealed with seam tape.
The perimeter of the roof, as well as any penetrations, are flashed according to technical specifications.
Mechanically-fastened EPDM roofing systems are lightweight and can be installed on almost any type of building as long as the decking is strong enough for the fasteners to be attached through the membrane or to the side laps. Many types of buildings can benefit from using this type of system due to its strength and versatility.
Insulation is laid on the roof decking and fastened using adhesive or mechanical fasteners.
EPDM sheets are laid on top of the insulation, overlapping the edges of the sheets.
Seams are sealed with seam tape and then mechanically fastened.
The edges of the roof and any penetrations are appropriately flashed.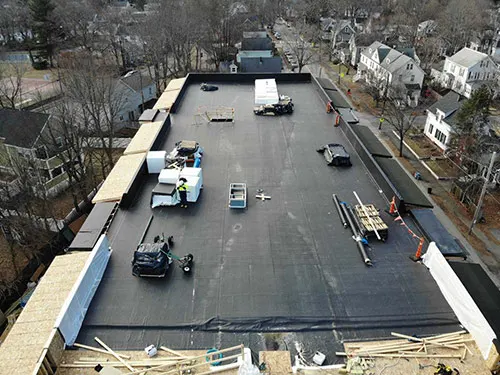 Why Choose EPDM Roofing Membranes?
EPDM roofing membranes are increasingly popular among industrial and commercial property owners due to their many favorable attributes, including:
The roofing materials you choose should fit your needs, including the climate in your region, the size and configuration of your building, budget and any special concerns. The experts at Northeast Industrial Roof can go through the options with you and help you determine if EPDM roofing is the best choice for your roof. Call us today to schedule a consultation.