Roof Repair in Massachusetts
Massachusett's Trusted Roofer For Residential Roof Repair Needs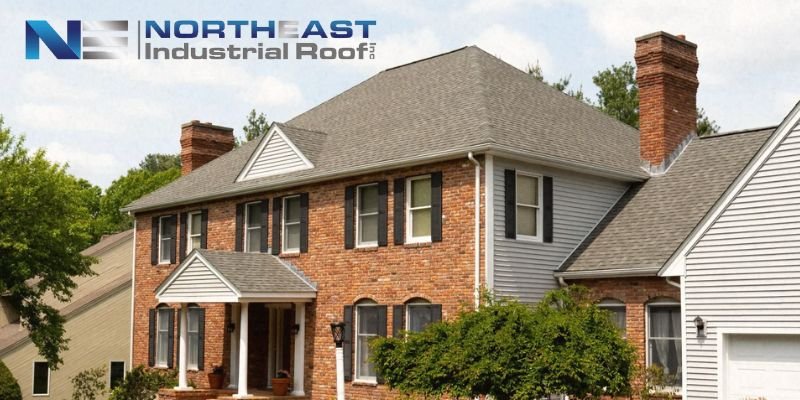 Choose a Trusted Roofer For Your Residential Roof Repair Needs!
When it comes to your home, the roof is one of the most critical components that needs to be in top-notch condition. If you're experiencing issues with your roof, whether it's a minor leak or significant damage, it's essential to choose a trusted roofer for your residential roof repair needs. NorthEast Industrial Roof is a company founded in 2013, licensed, insured, and fully committed to providing top-quality roof repair services for residential properties.
Get a Free Quote Today. Call us at (781) 874-0248 Now!
Our Commitment to Excellence
At NorthEast Industrial Roof, we take great pride in our commitment to excellence. We understand the importance of having a safe and secure roof over your head, and that's why we go above and beyond to ensure that your residential roof repair is done with the utmost care and precision. As a testament to our dedication to quality, we are accredited by the Better Business Bureau (BBB), which reflects our commitment to providing exceptional service to our customers.
Wide Range of Roof Repair Services
We offer a comprehensive range of residential roof repair services that cater to various types of roofing materials. Whether you have a shingle roof, metal roof, EPDM rubber roof, or require repair and replacement of siding, gutter, skylight, or deck, we have the expertise to handle it all. Our team of skilled professionals is well-versed in the latest repair techniques and uses advanced equipment to ensure that your roof is restored to its original integrity.
Using Premium Materials: Elevating the Standards of Roof Repairs
We understand the significance of using high-quality materials for roof repair. The longevity and durability of a repaired roof greatly depend on the materials used. At NorthEast Industrial Roof, we take pride in using premium materials that elevate the standards of roof repairs. We believe in providing a lasting solution, which is why we source our materials from trusted manufacturers.
Trusted Manufacturers, Trusted Repairs
Our strong partnerships with industry-leading companies like GAF Master Elite Roofing, Sika, Certainteed, Firestone, Elevate, Fiberlite, and Versico enable us to offer top-quality materials for our residential roof repair projects. These partnerships demonstrate our dedication to ensuring that our customers receive nothing but the best when it comes to their roof repair needs.
Fast Fix for Roof Repair Emergencies
Roofing emergencies can happen at any time, and when they do, you need a reliable roofer who can respond promptly and efficiently. At NorthEast Industrial Roof, we understand the urgency of roof repair emergencies, and we are equipped to provide a fast fix when you need it the most. Our team is readily available to handle emergency repair situations to protect your home from further damage.
Customer Satisfaction Guaranteed
Our ultimate goal at NorthEast Industrial Roof is customer satisfaction. We believe in delivering results that leave our customers fully satisfied and delighted with our services. Our track record of 5-star customer reviews speaks volumes about the level of service we provide. We prioritize open communication, attention to detail, and transparency throughout the roof repair process to ensure that you have a positive experience working with us.
Expert Roof Repair Services Across Massachusetts
At NorthEast Industrial Roof, we offer expert roof repair services across Massachusetts, providing homeowners in various cities and towns with top-notch solutions to preserve the protection and integrity of their roofs. Our skilled team is dedicated to addressing a wide range of roofing Massachusetts issues promptly and efficiently. We proudly serve the following locations:
When it comes to residential roof repair, NorthEast Industrial Roof is the name you can trust. With our years of experience, commitment to excellence, and partnerships with trusted manufacturers, we elevate the standards of roof repairs. Whether you need a minor fix or a major overhaul, we are here to deliver top-quality service, ensuring the integrity of your home's roof. Don't settle for less when it comes to your home's safety and protection. Choose NorthEast Industrial Roof for all your residential roof repair needs. Get in touch with us today to schedule a consultation and experience the difference our expertise can make.
We strive to provide you peace of mind by ensuring superior customer service and industry-leading warranties that protect your investment for years to come.
Our multi-unit roofing specialists are committed to performing the thorough planning that is required prior to the start of your roofing project. These expert roofers understand that a successful large-scale endeavor requires meticulous project management as well as a team that possesses the drive and skill to perform the job at a high level of quality and with maximum efficiency.
What you won't receive from our team are broken promises or lame excuses. We pride our team on keeping our promises, adhering to schedules and providing value to every project we take on.
Northeast Industrial Roof has earned a reputation as Boston's premier commercial roofing contractor for our attention to detail, dedication to delivering quality commercial roofing services and utilizing the best roofing materials available on the market. Our commercial roofing team is also committed to providing our customers with: Accountability, Communication, Consideration, Cost Efficiency and Safety.

Accountability: We believe in transparency and steadfastly deliver on our promises, whether it's a price quote, project timeline or a commitment to our high standards for quality.

Communication: You'll always be up to date on the progress of your commercial roofing project and we're happy to answer all of your questions.

Consideration: We know that the noise of a roofing project can be disruptive to your work and your tenants, so we take steps to minimize the disruptions caused by construction noises. We're also vigilant about managing the roofing debris, tools and materials so that life can continue as normal during the project.

Cost efficiency: We strive to complete your project within budget and on deadline while providing top-quality results.

Safety: Northeast Industrial Roof is diligent about the safety of our employees and customers. Our roofers are safety-trained and always utilize the proper PPE and fall protection.
Founded in 2013, Northeast Industrial Roof has an A+ rating from the Better Business Bureau, is a GAF-Certified™ installer, and has 5-star ratings on Google, Birdeye, Yelp and more. When you need quality roofing services for your multi-unit, Northeast Industrial Roof is the best choice.