Superior Roofing Lexington MA Solutions: Top Contractor Uniting with Excellence for Industrial, Commercial, and Residential Sector
Welcome to a world of exceptional roofing Lexington MA solutions, offered by Northeast Industrial Roof. As a renowned roofing Lexington MA contractor, our commitment lies in delivering top-tier services to meet the needs of commercial-industrial, and residential properties. With a team of highly skilled roofing Lexington MA experts, we are dedicated to securing the longevity and durability of your roof, ensuring peace of mind and a solid investment. From roof installation, replacement, repair, inspection, restoration to maintenance, we provide comprehensive expertise and unwavering professionalism to cover all your roofing requirements. Embrace excellence like never before by entrusting Northeast Industrial Roof for all your roofing Lexington MA needs.
Get Your Free Roofing Lexington MA Estimate: Call  (781) 874-0248 Today!
Beyond Superiority: Trusted Commercial Roofing Pioneer in Lexington MA
Entrust your commercial and industrial roofing Lexington MA needs to the experts you can rely on. At Northeast Industrial Roof, we offer a comprehensive range of services catering to the unique demands of businesses in Lexington and its surroundings. Whether you seek EPDM Rubber Roofing, TPO roofing, PVC roofing, Green roofs,  Metal roofs, waterproofing and coatings, or any other commercial roofing system, we've got you covered. Our expertise extends to specialized services like snow removal, condo roofing, roof curbs and skylights, solar energy systems, cool roof technology, single-ply roofing, and roof insulation.
We have the expertise and resources to efficiently handle projects of any size and complexity, catering to both small businesses and large industrial complexes. Recognizing the vital role of a reliable and long-lasting roof for your commercial property, we are dedicated to preserving its integrity through exceptional craftsmanship and the utilization of top-notch materials. By selecting our premium solutions, you can ensure that your commercial property is comprehensively protected and built to endure the test of time.
Premier Industrial Roofing Lexington MA Solutions: Top-Notch Installation Services in Lexington
Your commercial or industrial property deserves a roof that not only safeguards it but also enhances its overall appearance. Northeast Industrial Roof specializes in expert commercial and industrial roof installation in Lexington. Our portfolio boasts successful projects across various industries, including office complexes, condos, manufacturing facilities, retail centers, warehouses, and educational institutions.
Our skilled roofing Lexington MA professionals collaborate with you to determine the ideal roofing solution, considering your budget and requirements. With our expertise and dedication to quality, we deliver outstanding results that elevate your business space.
Elevate Your Living Space: Opt for the Leading Residential Roofing Contractor in Lexington
Northeast Industrial Roof is your trusted partner for the finest residential roofing solutions in Lexington, MA. As the leading roofing Lexington MA contractor, we take pride in our highly skilled team, dedicated to unmatched craftsmanship and attention to detail. Our goal is to create stunning residential roofs while ensuring optimal protection for your family. Count on us for roof repair, replacement, or installation that exceeds expectations.
Our comprehensive range of residential services includes:
Shingle Roof:

Installing, repairing, and replacing high-quality shingle roofs.

EPDM Rubber Roof

: Experience the durability and low-maintenance benefits of our long-lasting roofing solution.

Metal Roof:

Choose from various types of metal roofs for durability and energy efficiency during installation.

Slate Roof:

Embrace a timeless and elegant roofing option that guarantees both beauty and longevity.

Custom Gutters:

Efficiently manage water with our selection of copper, aluminum, and fiberglass gutters.

Skylight Installation:

Enhance your space with expertly installed skylights that bring in natural light and elevate the ambiance.

Emergency Repair:

Rely on our quick response team to address roofing emergencies promptly and prevent further damage.
Let Northeast Industrial Roof turn your residential roofing Lexington MA dreams into reality, ensuring your home receives the exceptional care it deserves.
Top-notch Roofing Restoration Contractors in Lexington: Restoring Roofs with Precision
When your residential roof suffers damage, rely on the reliable roofing Lexington MA team at Northeast Industrial Roof to restore its functionality and beauty. We specialize in residential roof repair services in Lexington and its surroundings. Our skilled technicians diagnose the problem and provide tailored solutions for effective resolution. Whether it's minor leaks or extensive damage, we have the expertise to restore your roof and protect your home.
Lexington's Top Choice for Roof Maintenance: Devoted Contractor for Optimal Care
Preserving the integrity of your home or business through ongoing roof maintenance is essential. It's about safeguarding your valuable investment. Proper roof maintenance not only increases your roof's life expectancy but also prepares you for significant roofing expenses.
Ignoring severe leaks without any major contributing events may lead to extensive damage, resulting in comprehensive and expensive repairs. However, with an ongoing roof maintenance contract with a specialist roofing Lexington MA company like Northeast Industrial Roof, these issues could have been avoided. Don't wait for problems or major natural events to occur. Practice safe measures and employ a Lexington roof maintenance contractor from Northeast Industrial Roof to enjoy a solid maintenance package tailored to your needs.
Seamless Roof Replacements for Commercial, Industrial, and Residential Projects in Lexington
If your roof is showing signs of wear and tear, it might be time for a replacement. Northeast Industrial Roof specializes in seamless roof replacement for commercial, industrial, and residential properties. Our experienced roofing Lexington MA contractors guide you through the entire process, from assessing your needs to selecting the perfect roofing materials. With meticulous attention to detail and a commitment to excellence, we ensure a smooth transition and a roof that enhances the value and aesthetics of your property.
Expert Roof Inspections in Lexington: Professional Services for Commercial, Industrial, and Residential Structures
Regular roof inspections are of utmost importance in maintaining the integrity and longevity of your roofing system. At Northeast Industrial Roof, we offer professional inspection services for commercial, industrial, and residential buildings in Lexington and its surroundings. Our experienced inspectors thoroughly assess your roof, identify potential issues, and provide you with a comprehensive report. Detecting problems early on helps you avoid costly repairs and ensures your roof remains in optimal condition.
Sample inspection issues include:
Leaks and water damage

Damaged or missing shingles

Cracked or deteriorating roofing materials

Poor installation or workmanship
Premier Commercial Industrial Roof Repair Experts: Sustaining Business Continuity in Lexington
A damaged roof can disrupt your business operations and compromise the safety of your employees and customers. That's where our commercial and industrial roof repair services come in. Our roofing experts in Lexington have the knowledge and tools to efficiently assess and repair roofing issues, minimizing downtime and ensuring business continuity.
With Northeast Industrial Roof, we work only with the best roofing manufacturers, providing advanced roofing products on every project. Our attention to detail allows you to enjoy the full benefits of industry-leading roof warranties lasting up to 50 years. We are thorough and dedicated to perfection, ensuring your roof stands the test of time. Trust Northeast Industrial Roof to restore the integrity of your commercial or industrial roof promptly and effectively.
Enhance Your Home with Superior Roof Installation in Lexington
Looking to elevate your home's curb appeal and functionality? Our superior roof installation services are just what you need. Our team of roofing Lexington MA professionals collaborates closely with you to understand your vision and recommend the best roofing materials and styles to complement your home's architectural design. With precision installation process and techniques,  we ensure a durable and aesthetically pleasing roof that enhances your property.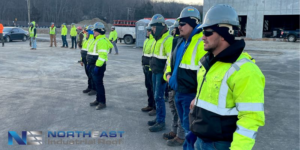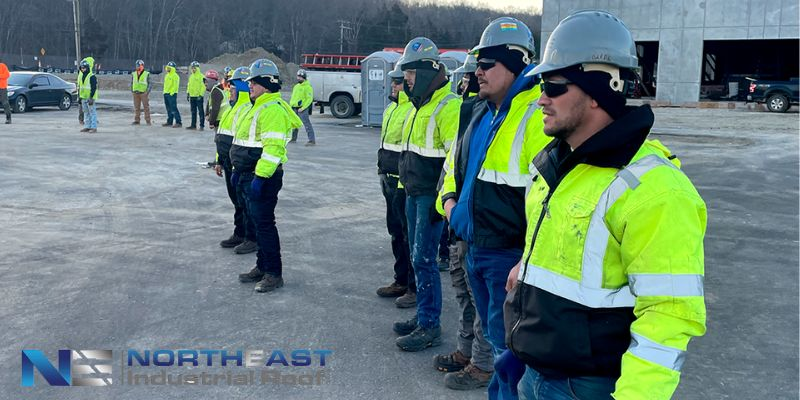 Northeast Industrial Roof: Your Trusted Partner for Superior Roofing in Lexington
Embark on a journey of roofing excellence with Northeast Industrial Roof, a premier contractor serving Massachussets since 2013. We've earned a reputation for excellence in commercial, industrial, and residential roof installation, repair, replacement, and maintenance. Backed by the prestigious Technician Seal of Safety, we offer top-notch workmanship and premium materials from reputable manufacturers like GAF Master Elite Roofing, Carlisle, Certainteed, and more. 
Contact us today to discuss your roofing Lexington MA needs and schedule a consultation. Experience first-class roofing solutions that ensure durability, longevity, and your complete satisfaction.
Northeast Industrial Roof is standing by to answer any commercial roofing questions you may have.