Commercial Roofing Services in Boston's South Shore Area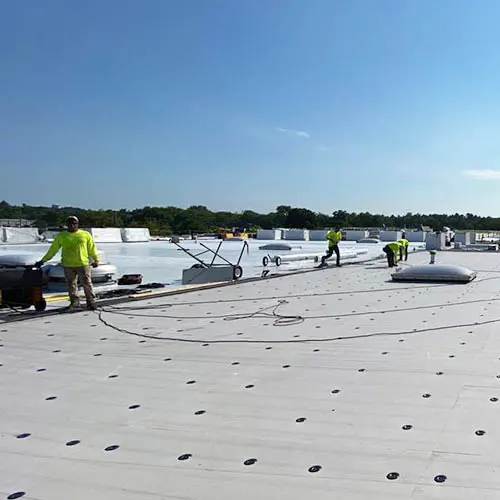 Our dedication & commitment inspire confidence & trust with our customers
Your commercial roof requires an experienced team of professional commercial roofers who are located nearby to help care for your roof. Our South Shore Boston Area roofers are licensed and certified, with expertise spanning all types of roofing materials suitable for commercial flat or low-slope roofs. Hundreds of commercial property owners and managers trust our efficiency, cost-effectiveness and customer service standards.
South Shore Boston Area
Commercial Roofing Experts
Northeast Industrial Roof is 100% committed to providing quality commercial roofing services to businesses in the South Shore Boston area. Since 2013, we've offered a wide range of commercial
roofing Medford MA
services including:
Value + Safety = The NI Roof Experience
At Northeast Industrial Roof, we're dedicated to your safety and providing added value to your property. We will follow all required and recommended safety procedures carefully, and we keep our roofers up to date on the latest protocols by conducting regular safety training sessions to ensure that your property remains accident-free. Your roof will be inspected, repaired or replaced by experts who follow all safety requirements and utilize the best materials and methodologies to provide the maximum value to your commercial property.
Boston South Shore Commercial Roofing
In addition to our expertise and unmatched customer service, our work is backed by
industry-leading warranties
, so you can be sure that your roof is in the best hands. Our roofers will always provide neighborly care and professionalism when completing your roof repairs, replacement or inspection.
Boston's South Shore Area Includes
the Following Cities & Towns:
Braintree
Cohasset
Duxbury
Hanover
Hingham
Holbrook
Hull
Marshfield
Norwell
Pembroke
Rockland
Scituate
Weymouth
24/7 Emergency
Roof Repair Services
We provide emergency commercial roofing services 24/7 to allow you to rest easy knowing that your roof can be cared for no matter what time of day or night.