Top-Rated Chimney Leak Repair in Massachusetts and Near: Swift and Secure Solutions
Chimney Leak Repair in Massachusetts is a critical service that every homeowner in the region should prioritize. The integrity of your home can be compromised by a leaking chimney, and timely intervention is paramount to prevent further damage. In this guide, we delve into chimney services focusing on chimney leaks, causes, and signs of chimney leaks offering valuable insights to help you understand the importance of prompt chimney leak repairs. At Northeast Industrial Roof, we take pride in being the top choice for Chimney Leak Repair in Massachusetts and other chimney services, providing secure and swift solutions.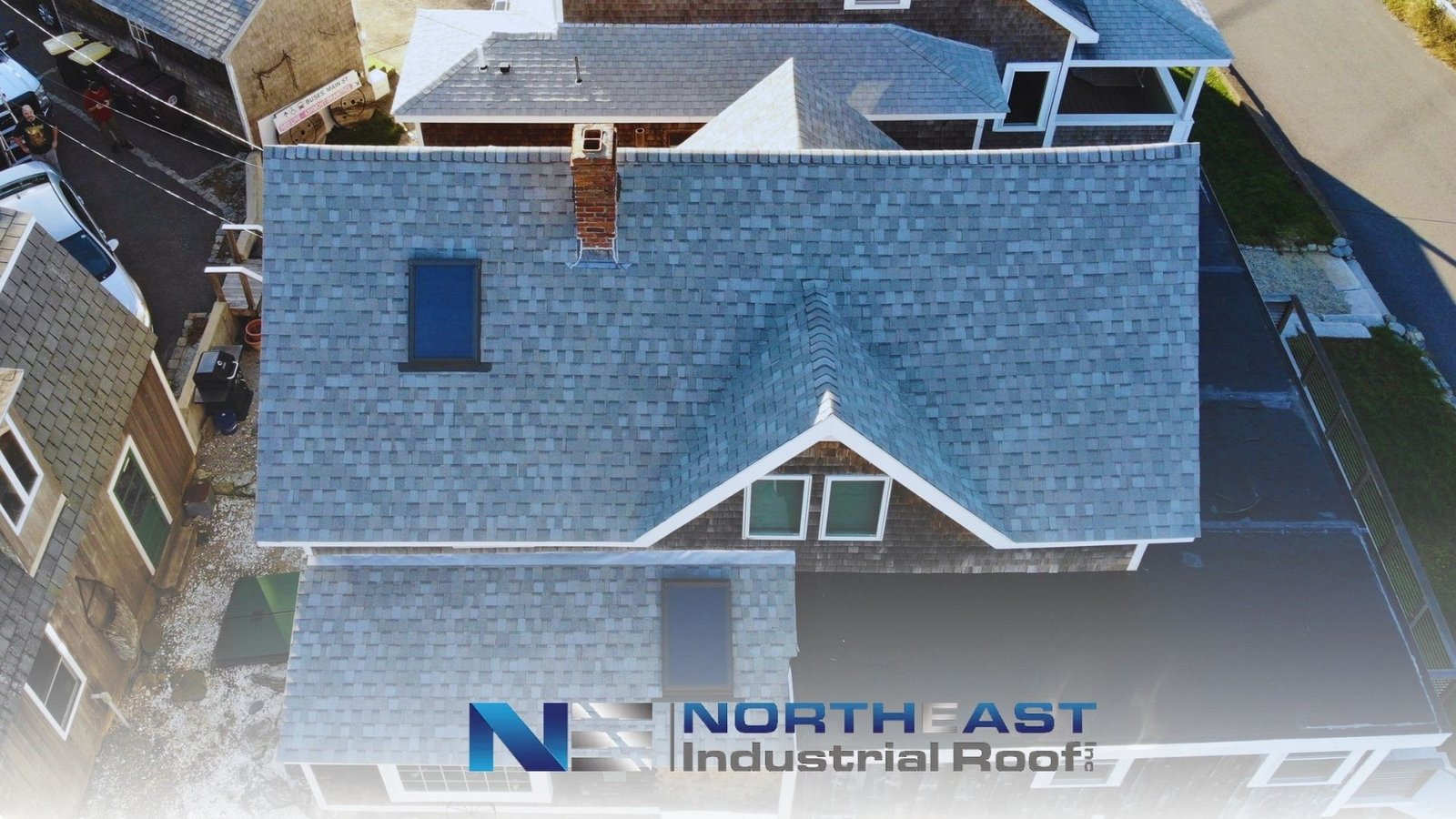 Understanding Chimney Leaks: Causes and Signs
Chimney leaks can result from various factors, and comprehending these is crucial for effective intervention. Below, we outline the common causes and signs of chimney leaks to assist you in making informed decisions regarding your chimney's health:
Common Causes of Chimney Leaks
Understanding the origins of chimney leaks is crucial to effectively address and prevent them. Here are the most frequent culprits behind chimney leaks, shedding light on potential areas for inspection and necessary repairs:
Faulty Flashing:

Chimney Leak Repair in Massachusetts often addresses issues stemming from improperly installed or damaged chimney flashing, allowing water to infiltrate your living space.

Cracked Chimney Crown:

A cracked chimney crown is a common cause of leaks, as it serves as an entry point for water, necessitating prompt repair.

Damaged Chimney Cap:

A damaged or missing chimney cap is another entryway for excess moisture, which is often mitigated through our Chimney Leak Repair in Massachusetts services.

Masonry Deterioration:

Over time, chimney masonry can crack or deteriorate, permitting water penetration; our repair services comprehensively address this issue.

Condensation:

Inadequate ventilation can lead to condensation issues, contributing to chimney leaks, a concern we effectively tackle through our expert repair solutions.
Identifying Signs of a Leaking Chimney
Detecting a leaking chimney in its early stages is crucial to prevent extensive damage to your home and property. Here are key signs to look out for, indicating a potential chimney leak:
Water Stains on Ceilings or Walls

: Visible discoloration or watermarks on ceilings or walls near the chimney area are strong indicators of a chimney leak and should prompt immediate action.

Damp or Musty Odor:

A persistently damp or musty smell in your living space may be a sign of water infiltration through the chimney, requiring swift Chimney Leak Repair in Massachusetts.

Cracked Bricks or Mortar

: If you notice visible cracks in the chimney bricks or mortar, it's vital to seek professional repair services to prevent further damage.

Efflorescence:

The presence of white, chalky residue on the chimney structure suggests water-related issues, emphasizing the need for expert Chimney Leak Repair in Massachusetts.
Service Areas in Massachusetts for Chimney Leak Repair Services
Northeast Industrial Roof proudly extends its professional Chimney Leak Repair in Massachusetts to various service areas, ensuring homeowners across the state have access to high-quality repair solutions.
Serving Major Cities and Surrounding Areas
Our expert team caters to major cities and their surrounding areas in Massachusetts, providing comprehensive chimney leak repair services. We understand the unique requirements of urban settings and the importance of efficient chimney repairs for both safety and aesthetics. This includes:
Emergency Services Availability
At Northeast Industrial Roof, we understand that chimney leaks can occur at any time, often requiring immediate attention. That's why we offer prompt and efficient emergency chimney leak repair services to swiftly address urgent situations, providing you with peace of mind and crucial protection for your home.
Our dedicated team is available round the clock to respond to emergency chimney leak situations. When you call our emergency hotline, rest assured that skilled professionals will promptly attend to your needs, ensuring the safety and integrity of your home. Your peace of mind matters to us, and we are here to provide swift solutions when you need them the most.
Why Choose Our Chimney Leak Repair Services?
Choosing Northeast Industrial Roof for your Chimney Leak Repair in Massachusetts guarantees exceptional service and a hassle-free experience. Here are compelling reasons why our services stand out:
Experienced and Skilled Technicians
Our team comprises highly experienced and skilled technicians who are well-versed in chimney structures and leak repair techniques. We have been serving homeowners in Massachusetts since 2013, offering a wide range of chimney services, including chimney leak repair.
Swift and Reliable Repairs
We understand the urgency of chimney leak repairs. Our technicians work swiftly and efficiently to diagnose the issue and implement reliable repairs, preventing further damage to your chimney and home.
NorthEast Industrial Roof maintains trusted partnerships with esteemed roofing manufacturers such as GAF Master Elite Roofing, Carlisle, Certainteed, and more. These partnerships allow us to provide you with the highest-quality materials and products for your chimney projects.
Customer Satisfaction Guaranteed
Your satisfaction is our priority. We are committed to delivering top-notch service, ensuring your complete satisfaction with our chimney leak repair solutions. Our aim is to exceed your expectations and leave you with a fully restored, leak-free chimney.
We take pride in our reputation for 5-star reviews from satisfied customers. Our commitment to quality and customer service is second to none.
Our dedication to excellence has earned us accreditation by the Better Business Bureau (BBB), reflecting our commitment to providing exceptional service and customer satisfaction.
Frequently Asked Questions About Chimney Leak Repair in Massachusetts
We understand you may have several questions about Chimney Leak Repair in Massachusetts. Below, we've compiled the most common inquiries and provided detailed answers to guide you through the process:
What to Do When You Notice a Leak?
Spotting a leak in your chimney can be distressing. Here's what you should do when you detect a leak and how you can take immediate action to minimize damage to your home:
Isolate the Area:

Try to identify the source of the leak and temporarily block off the affected area to prevent water from spreading further.

Contact Professionals

: Reach out to experienced technicians specializing in Chimney Leak Repair in Massachusetts for a thorough assessment and immediate repair.

Document the Leak:

Take pictures or videos of the leak and any associated damage. This documentation can be helpful for insurance claims and repair assessments.
How Long Does a Repair Typically Take?
Understanding the duration of a Chimney Leak Repair in Massachusetts is important for planning and managing expectations. Here's an overview of the typical timeline for efficient chimney leak repairs:
Assessment: A thorough assessment of the chimney's condition can take a few hours, depending on the complexity of the issue.
Repair Plan: Once assessed, a detailed repair plan is created, outlining the necessary repairs and estimated timeframes.
Repair Execution: The actual repair process can range from a few hours to a couple of days, depending on the extent of the leak and the needed repairs.
Post-Repair Inspection: After the repairs, a final inspection ensures the leak is successfully repaired and the chimney is in optimal condition.
How to Maintain Your Chimney Post-Repair?
After a successful Chimney Leak Repair in Massachusetts, proper maintenance is key to extending the life of your chimney and preventing future leaks. Here are some maintenance tips:
Regular Inspections: Schedule regular chimney inspections to catch any potential issues early.
Clean Your Chimney: Have your chimney professionally cleaned at least once a year to remove soot, debris, and creosote buildup.
Check Flashing and Seals: Regularly inspect and maintain the chimney flashing and seals to ensure they remain intact and effective.
Monitor Weathering: Keep an eye on your chimney's exterior for signs of weathering and deterioration, addressing any issues promptly.
Contact Us for Immediate Assistance
When it comes to chimney leak emergencies, prompt action is crucial. Contact us at (781) 874-0248 immediately for swift and professional Chimney Leak Repair in Massachusetts assistance.
Schedule an Appointment
Ready to schedule a Chimney Leak Repair in Massachusetts? Book an appointment with us to have your chimney assessed and repaired by our expert team.
Reach Out for Queries and Estimates
Have questions or need an estimate for your Chimney Leak Repair in Massachusetts? Feel free to reach out, and we'll provide the information you need.
Free Chimney MA Estimate: Call 

(781) 874-0248

 Today!


Secure Your Home with Our Expertise!
Don't let a chimney leak jeopardize your home's safety. Trust our expertise to secure your chimney and keep your home protected with Chimney Leak Repair in Massachusetts.
Click to Schedule Your Chimney Leak Repair Today!
Ready to safeguard your home? Click below to schedule your Chimney Leak Repair in Massachusetts and ensure a leak-free, secure living space. Your home deserves the best protection!
Northeast Industrial Roof is standing by to answer any commercial roofing questions you may have.