Professional Roofers in Melrose - The Commercial Roofing Contractors at Northeast Industrial Roof
For experienced roofing contractors in Melrose, look no further than
Northeast Industrial Roof
. We are trusted for roofing installations, maintenance, and repairs throughout Melrose. We are a full-service commercial and residential roofing company. We offer a variety of roofing solutions designed to protect your building or home. We ensure that you are covered by the best workmanship and roofing materials Melrose has to offer.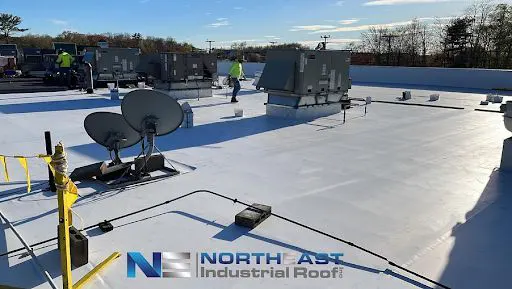 Get your estimate for your Melrose roofing project today. (781) 874-0248
Northeast Industrial Roof has been providing roofing and exterior services in the Melrose, MA area. We are certified, insured and bonded. We specialize in residential, commercial roofing, and industrial roofing Melrose MA. In business for over 9, Northeast Industrial Roof has become the trusted name for
roofing in Melrose MA
. Our Melrose commercial roofing and exterior technicians are certified and trained in all the latest techniques and products. This knowledge sets us apart from other fly by night roofing and exterior companies who are less educated and take chances with your property.
If you're looking for a new roof and you want it installed by the best roofing contractor Melrose MA has to offer, then give a call! As a business or homeowner, putting a new roof is one of the biggest investments you will make and it's a very important decision. There are hundreds of
roofing contractors to choose
from, and working with the best roofing contractor Melrose has to offer will give you peace of mind in knowing that you will get the best quality roof that fits your budget.
Northeast Industrial Roof - Your Melrose Commercial Roofer
From Northeast Industrial Roof, you get fully licensed and insured roofing contractors for your safety. They are all expertly screened for your protection and trained for doing the necessary repairs to your roof. Apart from the extensive experience that sets its roofers apart, our relationship with our customers and our quality, affordable work endear us to all. Our flat roofing contractors have all received the
Technician Seal of Safety
which shows that we are dedicated to ensuring the safety of you and your business. No matter the size of the job, we will complete it satisfactorily and leave your roof in the best shape for your protection from the elements. Enjoy the peace of mind that comes with employing Melrose's finest. Schedule a
roof inspection Melrose MA
from your trusted flat roofing contractor at Northeast Industrial Roof.
Turn To Us for Your Commercial Roofing in Melrose
There are many reasons why you should choose us to be your commercial roofing contractor. We have been in business for a decade, and we are a certified contractor of Industry-leading commercial roofing products and coatings with an outstanding reputation in MA. Our team can tackle all of your commercial roofing services in a speedy and efficient manner. We know how important the installation process is, and we also understand that proper maintenance and repair services will keep your roof in great shape for as long as possible.

We are prepared to help you achieve a commercial roof that will look good and function the way that you need it to. We want to extend the life of your roof, lasting up to 50 years by keeping it in pristine condition. Your business needs a dependable roof that will protect it from the rain, snow, high winds, UV light, and more. We can deliver a product that you can fully rely on for years to come.
Melrose Roof Maintenance Contractor
Ongoing
roof maintenance Melrose MA
is a strong preventative action to secure your home or business. It is about protecting your very valuable investment. When your roof is properly maintained, you not only benefit from an increased life expectancy of your roof but also preparation for major roofing expenses. When your roof starts to severely leak and there was no major event that could have contributed to it, that could mean that it has reached a stage of extensive damage. And when this occurs, it means comprehensive and expensive repairs. But, if you had an ongoing roof maintenance contract with a specialist roofing company, this could have been prevented. Only thinking about the roof when you have a problem or when a major natural event is about to happen is never a good idea. Practice safe measures. Employ an Melrose roof maintenance contractor from Northeast Industrial Roof and enjoy a solid maintenance package designed with your needs in mind.
When your roof has experienced severe damage and deterioration, whether over time or due to an incident, you may need to have it replaced. No matter how sturdy your roof is, it does have a life expectancy and when it starts to depreciate in quality you must make the easy choice of contacting Northeast Industrial Roof for Melrose's premier roofing specialists to replace your roof. Re-roofing is not a simple task. Unlike repairing or restoring your roof (which we can also do), this is completely replacing the roof on your building. That is why we only use factory trained roofers to ensure that you get value for money and peace of mind with an expertly replaced roof.
Roof Inspection in Melrose
You may wonder why you need to have your roof inspected and you are not experiencing any leaks. But, this is the time for thorough checks to be made. When your roof inspections are done by experts who know what to look for, they can spot issues that are generally unnoticed that could result in expensive repairs and possibly
roof replacement Melrose MA
. Roof inspections by Northeast Industrial Roof's contractors in Melrose are all about preventative maintenance. We want to work with you to help you enjoy the full life of your roof. Our 21-point inspection program is designed to do just that. Our expert roofers will inspect and identify the issues and potential problems with your roof. Following this, you will be provided with a full report on the status of your roof and what needs to be done. Should repairs or maintenance work be needed, these can be professionally completed by our roofing contractors.
The
National Roofing Association
recommends at least once yearly roof inspections. And this routine inspection is especially recommended for before and after the winter season. Roofing Specialists With years of experience and positive reviews, our
Melrose roof repair
specialists are ready to help your building stand up to the elements for decades. Do your diligence when you search for a roofing contractor. It's your home. It's your business. Make sure you are protected with quality workmanship as well as top of the line products and warranties. We want your roof to last decades. Our website is designed to allow you to qualify for our residential or commercial roofing company services, review our certifications, research our roofing services and review products and warranty options before you even
contact us
.
Reputable & Affordable Roofing Services
When you're looking for a high quality commercial roofing contractor in Melrose, you won't find a better value. Northeast Industrial Roof is a reputable roofing company that has been serving
Massachusetts
for a decade. Northeast Industrial Roof is a locally owned and operated business located primarily in Melrose. Our roofing company is
accredited by the BBB
and has earned many
5-star reviews
over the years. We are committed to providing a 5-star service. That's what keeps our customers satisfied year after year. Feel free to
browse our portfolio
of completed roof contracts.
With decades of experience our team has the tools and the know-how to get the job done right, fast, efficiently and at the best possible price. Having worked for so many years in Melrose, MA, you can rest assured that our team has what it takes to provide the best service possible.
Northeast Industrial Roof is standing by to answer any commercial roofing questions you may have.