One-Stop Roofing Salem MA Solutions: Tailored Services for Every Project in Salem MA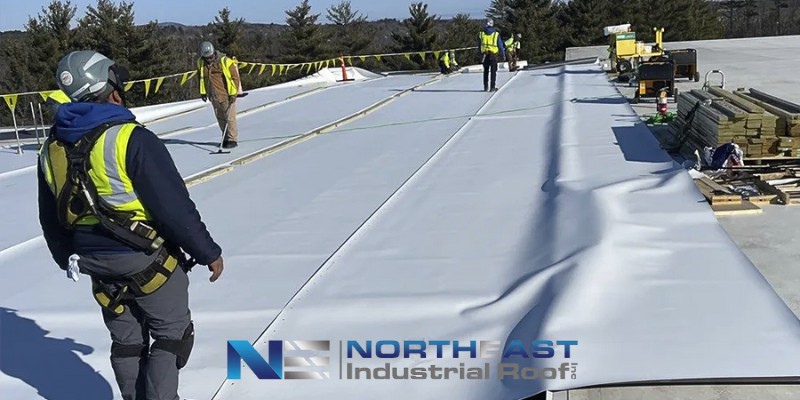 Welcome to Northeast Industrial Roof, where adaptable and comprehensive roofing solutions for any project in Salem MA, are provided by our trusted roofing Salem MA contractors! A sense of pride is taken in the precision and expertise with which all your roofing Salem MA needs are handled by our team of skilled professionals. Whether it's a residential haven, a bustling commercial or an industrial space, our clients' diverse requirements in Salem MA, are catered to.
Excellence is pursued with dedication, backed by years of experience, ensuring we stand out as a reliable name in the roofing industry. From roof installations and repairs to maintenance and replacements, you are covered every step of the way.
Get Your Free Roofing Salem MA Estimate: Call
(781) 874-0248
 Today!
Top-Notch Residential Roofing Services in Salem MA
The role of your home as a sanctuary necessitates a durable and dependable roof to shield it from the elements. Northeast Industrial Roof is the beacon of trust for residential roofing Salem MA. An extensive array of high-quality residential roofing solutions is offered, including Shingle Roofing, EPDM Rubber Roofing, Metal Roofing, Slate Roofing, Gutter Installation, Skylight Installation and more, catering to various architectural styles and budgets.
Guidance through the options is provided by our roofing Salem MA experts ensuring your chosen roofing material enhances your home's curb appeal. Moreover, Gutter Installation and Skylight Installation services are available to divert water from your home's foundation and brighten up living spaces, making your home more energy-efficient.
Excellence in Every Project: Elevating Salem MA's Commercial-Industrial Roofing Services
Reliability and trustworthiness are embodied by Northeast Industrial Roof as a name in the roofing industry. Commercial and industrial properties in Salem MA receive tailored roofing Salem MA solutions crafted by our highly skilled team of roofing Salem MA  experts. Precision and care are exercised in handling every aspect, whether it's 
EPDM Rubber Roofing
, 
TPO roofing
, 
PVC roofing
, 
Green roofs
,
Metal roofs
, waterproofing, 
coatings
, or other roofing services.
But that's not all! Beyond the ordinary, we offer services such as 
snow removal
, 
roof inspections
, 
condo roofing
, 
roof curbs and skylights
, 
solar energy systems
, 
cool roof technology
, 
single-ply roofing
, and 
roof insulation
. The uniqueness of each property is embraced, and a personalized approach ensures a perfect alignment of your roofing Salem MA solution with your specific needs and preferences.
Swift Fixes You Can Trust: Expert Roofing Repairs in Salem MA
Roofing issues can be unexpected and troubling, but worry not! Northeast Industrial Roof is dedicated to providing swift and efficient roof repair services for both commercial and residential properties in Salem, MA. Meticulous inspections are conducted by our skilled roof repair contractors to identify underlying issues, and precision and expertise are employed in fixing leaks, repairing damaged shingles, or addressing storm damage, ensuring your roof is in top-notch condition.
Experts in Residential Roof Replacements: Trusted Roofing Contractors in Salem MA
A smooth and successful residential roof replacement project requires the right contractor. Northeast Industrial Roof is the premier residential roofing Salem MA contractor, providing top-quality solutions. Various roofing materials are available to choose from, and our skilled team ensures a flawless installation, fortifying your home's protection and beauty while complying with local codes and adhering to industry best practices.
Explore 5 
Essential Signs To Look Out For
 That Indicate It May Be Time To Replace Your Roof:
Age of Roof:

Pay attention to the age of your roof. Most asphalt shingle roofs last between 20 to 25 years. If your roof is approaching or has surpassed this age range, it may be time for a replacement.

Visible Wear and Tear:

Inspect your roof regularly for visible signs of wear and tear such as cracked, curling, or missing shingles. Damaged shingles can compromise the integrity of your roof and signal the need for a replacement.

Roof Leaks: If you notice water stains on your ceilings or walls, it's a clear indication that your roof is leaking. Roof leaks can lead to significant damage to your home's interior and should prompt immediate attention and possible roof replacement.
Sagging Roof Deck

: An uneven or sagging roof deck is a serious warning sign that your roof is structurally compromised. This can be caused by water damage or aging materials and requires prompt evaluation and possible replacement.

High Energy Bills:

A poorly insulated or damaged roof can result in increased energy consumption. If you've noticed a significant rise in your heating and cooling bills, it could be due to an inefficient roof, and replacing it with a more energy-efficient option may be necessary.
Remember, regular roof maintenance and inspections are crucial to catching potential issues early on. If you notice any of these signs, it's best to consult a 
professional roofing Salem MA contractor
 for a thorough assessment and guidance on whether roof replacement is the right course of action.
Keeping Your Roof Reliable: Dependable Roofing Maintenance in Salem MA
The key to prolonging the lifespan of your commercial or industrial roof lies in regular roof maintenance. At Northeast Industrial Roof, comprehensive roof maintenance services in Salem, MA are designed to keep your roof in optimal condition throughout its service life. Signs of wear and tear are identified and addressed through routine inspections and proactive measures, safeguarding your investment for years to come.
The 
importance of regular roof inspection
 should never be overlooked, as it is the key to avoiding costly repairs and ensuring the long-lasting performance of your roof. Rest assured, your roof is in the hands of experienced 
roofing professionals 
with our trusted roofing maintenance services in Salem, MA.
Flawless Commercial Roof Installation in Salem MA
At Northeast Industrial Roof, we understand the importance of a swift and efficient 
roof installation process
, minimizing disruptions to your commercial operations. Our team of experienced roofing Salem MA contractors follows a streamlined approach to deliver flawless results and aesthetic excellence for your Salem, MA property. Here's a brief overview of our roof installation process:
Consultation and Assessment:

Our process begins with a thorough consultation to understand your specific roofing Salem MA needs, preferences, and budget. We assess your property's existing roofing system and any underlying structural issues to determine the best course of action.

Customized Roofing Solution:

With a wide range of roofing materials, styles, and colors at our disposal, we collaborate closely with you to design a customized roofing Salem MA solution that complements your property's design and enhances its visual appeal. We take into account factors like durability, energy efficiency, and overall performance to provide you with the ideal options.

Pre-Installation Preparation: Before commencing the installation, we prepare the site meticulously to ensure a smooth workflow. Our team clears the area, removes any debris, and takes necessary safety precautions to create a secure work environment.
Expert Installation: Our skilled roofing Salem MA professionals bring years of experience and training to the table. They utilize industry best practices and the

 and techniques to execute the installation process with precision and efficiency.

Quality Assurance:

At Northeast Industrial Roof, we prioritize quality and durability. Throughout the installation process, our team conducts regular quality checks to ensure that the roofing materials are correctly installed and meet the highest standards.

Timely Completion:

We understand that time is of the essence for any commercial roofing project. Our team is committed to meeting agreed-upon deadlines, delivering a prompt and efficient installation process without compromising on quality.

Post-Installation Inspection:

Once the installation is complete, we conduct a comprehensive post-installation inspection to verify that everything is in place and functioning as intended. This ensures that your new roofing system is ready to withstand the elements and protect your property effectively.

Client Satisfaction:

Our ultimate goal is your satisfaction. We encourage open communication throughout the process, and our team is always available to address any questions or concerns you may have. Your happiness with the final results is our top priority.
If you're 
looking for the best contractor 
in Salem MA, choose Northeast Industrial Roof for your 
commercial roofing installation
 in Salem MA, you can expect a seamless, hassle-free process that delivers outstanding results, elevating your property to new heights of aesthetic excellence.
Choose Northeast Industrial Roof –  Your Partner for Top-notch Roofing in Salem MA!
Northeast industrial roof stands tall as the premier choice, authorized by GAF master elite roofing, Sika, Certainteed, Carlisle and more. Your safety and property security prioritized with our esteemed
Technician Seal of Safety
, authorized contractor status, and premium materials.
Put your trust in Northeast Industrial Roof for your Salem MA roofing needs, and experience the difference working with the best makes! 
Contact us
 today to discuss your requirements, and together, we'll ensure a secure and prosperous future for your property. don't settle for anything less than regal – Choose Northeast Industrial Roof!
New England's Reliable Roofers
We're experts in commercial roof solutions of all sizes and scopes. Our training and experience has allowed us to become familiar with – and find solutions to – almost every possible roof-related quandary, and our skills continue to compound with every project we complete.

Our roofers are punctual, reliable and responsible. We'll always arrive on time, utilize the proper safety measures and keep a clean job site at all times. We respect your property and your people and will do whatever it takes to ensure your 100% satisfaction with the roofing services that we provide.

We offer the full range of commercial, industrial and multifamily residential roofing services, including:
We install, repair and service the following types of commercial roofs:
Somerville, MA Flat Roof Specialists
Northeast Industrial Roof specializes in installing, repairing and maintaining flat roofs, including TPO, PVC, EPDM, metal, single-ply, and more. We can evaluate your existing roof, answer your questions and ensure that you get the best results from your investment.
Commercial Roofing Services in Somerville, MA
At Northeast industrial Roof, we stand behind our work, our professionalism and our credentials because our customers do. We welcome feedback and are consistently seeking ways to learn more and improve upon our already-stellar reputation throughout Massachusetts.

We know that good help can be hard to find. That's why whether your roof needs repairs, maintenance or total replacement, our roofers are nothing less than thorough, professional and committed to providing the highest quality of service. From helping you identify the best roofing materials for your roof to erasing all traces of our presence when the job is complete, Northeast Industrial Roof is Somerville's preferred roofing contractor.