Our Superior Chimney Services in Massachusetts
Looking for chimney services in Massachusetts? Your search ends here at Northeast Industrial Roof. With our expert team and years of experience, we proudly offer a comprehensive range of superior chimney solutions tailored to meet the diverse needs of Massachusetts residents. Our commitment to excellence and unwavering dedication to customer satisfaction make us the go-to choice for all your chimney needs in the region.
                         Free Chimney MA

 Estimate: Call 

(781) 874-0248

 Today!



Chimney Repair & Restoration
When your chimney faces the brunt of Massachusetts' weather and the demands of regular usage, wear and tear are inevitable. However, at Northeast Industrial Roof, we believe that every chimney deserves a second chance to stand tall and strong. Our Chimney Repair and Restoration services are designed to address both common issues and unique challenges that chimneys encounter. With our expert craftsmanship and dedication to quality, we're here to ensure that your chimney not only regains its functionality but also maintains its aesthetic appeal.
Common Chimney Issues
Chimneys stand tall against the elements, but over time, they can face various issues due to weathering and usage. At Northeast Industrial Roof, we understand the unique challenges that Massachusetts weather poses to chimneys. Our expert team has encountered and successfully resolved common chimney issues, including:
Crumbling Mortar and Bricks:

Harsh winters and constant exposure can lead to the deterioration of mortar and bricks, causing instability and water infiltration.

Leaking Chimneys:

Leaks are a frequent concern, often originating from damaged flashing or degraded chimney crowns. These leaks can lead to significant structural damage if left untreated.

Flue Liner Deterioration:

The flue liner plays a crucial role in directing smoke and gases safely out of your home. Over time, it can degrade, posing a serious safety risk.
Repair Solutions
Our skilled technicians are adept at addressing these challenges head-on. When it comes to chimney repair, we believe in offering solutions that stand the test of time. We don't just patch up the visible damage; we delve deeper to identify the root causes and apply durable fixes. Our repair solutions include:
Tuckpointing and Mortar Repair:

We meticulously replace damaged mortar and bricks using proven tuckpointing techniques. This not only restores the structural integrity but also enhances the aesthetic appeal of your chimney.

Chimney Crown Restoration:

A damaged chimney crown can result in leaks and further deterioration. Our crown restoration ensures proper water runoff and protection against the elements.

Flashing Repair:

Our experts excel in repairing or replacing flashing, ensuring a watertight seal between the chimney and the roof.
Chimney Restoration Techniques
For chimneys that require more than just repairs, we offer comprehensive restoration services. Our restoration techniques are designed to breathe new life into aging or severely damaged chimneys:
Chimney Rebuilding:

In cases of extensive damage, we skillfully rebuild chimneys from the ground up, incorporating modern materials and techniques while preserving the original character.

Historical Restoration:

We have a deep appreciation for historical architecture. Our restoration experts can recreate intricate details and finishes, ensuring your chimney maintains its timeless charm.

Water and Weatherproofing:

To safeguard your chimney against the unpredictable Massachusetts weather, we apply advanced water and weatherproofing methods that provide long-lasting protection.
Chimney Inspections
When it comes to the safety, efficiency, and longevity of your chimney system, Chimney Inspections play a pivotal role. At Northeast Industrial Roof, we recognize that your chimney is not just a functional component of your home; it's a vital element that contributes to your comfort and security. Our comprehensive chimney inspection services are designed to provide you with the peace of mind you deserve, knowing that your chimney is in optimal condition.
Importance of Chimney Inspections
Regular chimney inspections are a cornerstone of preventive maintenance. At Northeast Industrial Roof, we understand that a well-maintained chimney contributes to the overall safety and comfort of your home. Our Chimney Services in Massachusetts include thorough inspections that help identify potential issues before they escalate into major problems.
Levels of Chimney Inspection
We offer three levels of chimney inspection, each tailored to different needs:
Level 1:

This basic inspection involves a visual examination of readily accessible parts of the chimney. It's recommended annually for chimneys with regular use.

Level 2:

A more comprehensive inspection that includes accessible areas such as attics and crawl spaces. This level is ideal when changes are made to the system, such as a new appliance installation.

Level 3:

Reserved for situations where there's a specific reason to suspect a hidden problem, Level 3 inspections delve deep into concealed areas and may involve the removal of components.
Inspection Reporting
After conducting a thorough inspection, we provide you with a detailed report of our findings. This report not only highlights any existing issues but also outlines potential areas of concern that might need attention in the future. Armed with this information, you're empowered to make informed decisions about your chimney's maintenance and repair needs.
                                                                  Free Chimney MA Estimate: Call 

(781) 874-0248

 Today!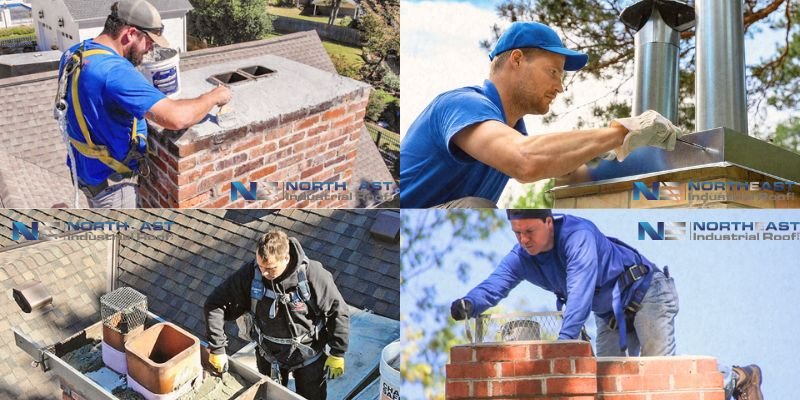 Chimney Installation & Upgrades
When it comes to your chimney, proper installation and strategic upgrades are essential for ensuring both safety and efficiency. At Northeast Industrial Roof, we take immense pride in offering a specialized array of Chimney Installation & Upgrades services. Whether you're in need of a new chimney installation or seeking to enhance the performance of your existing chimney, our team of dedicated professionals is here to deliver exceptional solutions that align with the unique demands of your Massachusetts home.
Chimney Liner Installation
A proper chimney liner is critical to the safety and efficiency of your chimney system. Our Chimney Services in Massachusetts extend to expert liner installation. We offer various types of liners, including stainless steel and clay tiles, to suit your chimney's specifications and your heating appliances.
Chimney Cap and Damper Solutions
Preventing debris, animals, and drafts from entering your chimney is vital. Our chimney cap and damper solutions provide reliable protection while allowing proper airflow. We offer a range of options designed to match your chimney's structure and your specific needs.
Upgrade Options for Energy Efficiency
In today's environmentally conscious world, energy efficiency matters. Our team can help you upgrade your chimney for improved energy performance:
Energy-Efficient Damper Installation

: An energy-efficient damper minimizes heat loss when your fireplace is not in use, helping you save on energy bills.

Chimney Insulation:

Proper insulation reduces heat transfer, ensuring that the warmth generated by your heating appliances stays inside your home.
Why Choose Our Chimney Services in Massachusetts
Discover the Northeast Industrial Roof difference. Established in 2013, we're a trusted leader in Massachusetts' residential roofing industry, providing unparalleled chimney services in Massachusetts backed by licensed, insured expertise. Northeast Industrial Roof stands as a trusted name, offering a comprehensive suite of solutions that prioritize your safety, comfort, and satisfaction. With our extensive experience, dedication to quality, and customer-centric approach, we're here to provide you with unmatched chimney services in Massachusetts. 
With BBB accreditation and a trail of 5-star reviews, our commitment to quality shines. Explore our portfolio showcasing our craftsmanship and trusted partnerships with industry leaders like GAF, Certainteed, and more.
Our array of services in Massachusetts also includes:
What sets us apart is not just our services, but the transformation we bring to homes. From sturdy structures to elegant facades, we redefine spaces with endurance and elegance.
Follow us on Facebook, check out Yelp reviews, and connect with us to experience excellence. Contact us today at (781) 874-0248 to schedule an appointment and witness firsthand how we transform chimneys into safe, efficient, and beautiful structures that stand the test of time
Northeast Industrial Roof is standing by to answer any commercial roofing questions you may have.