# 1 Deck Builder in Massachusetts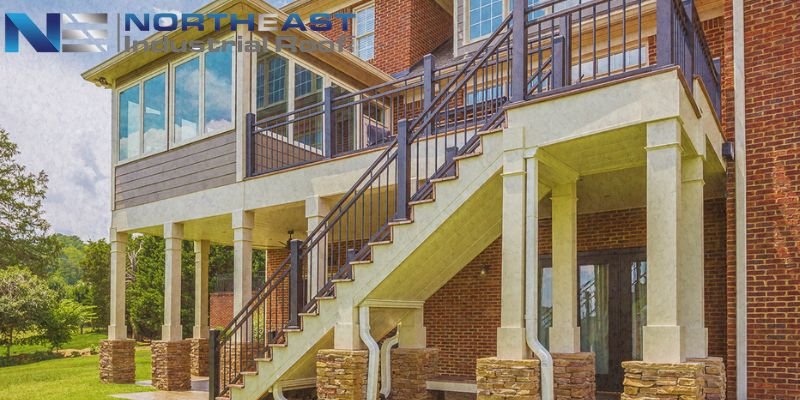 At NorthEast Industrial Roof, we take pride in being the leading residential deck builder in Massachusetts, specializing in creating exceptional outdoor spaces for residential properties. Our mission is to enhance your home's beauty, functionality, and value by crafting tailor-made decks that cater to your unique preferences and lifestyle.
Get a Free Quote Today. Call us at(781) 874-0248 Now!
Our Deck Building Expertise
When it comes to deck building, our deck builders team unparalleled in skill and experience. We have a deep understanding of Massachusetts' architectural styles and climate, enabling us to design and construct decks that seamlessly blend with your home while withstanding the elements. Whether you're envisioning a cozy private retreat or an expansive entertainment area,  we have the expertise as a deck builder in Massachusetts to bring your vision to life.
Crafting Your Dream Deck
Your dream deck begins with a personalized design. Our dedicated designers collaborate closely with you to understand your vision, needs, and preferences. We factor in your home's layout, surroundings, and your desired functionality to create a design that truly resonates with your lifestyle. From traditional wood to modern composite materials, we offer a wide selection of high-quality options to choose from.
Unrivaled Craftsmanship
At NorthEast Industrial Roof, we are committed to excellence in craftsmanship. Our skilled builders meticulously craft each deck with an unwavering attention to detail. Every joint is secured flawlessly, and every board is expertly placed, ensuring a structurally sound and visually stunning result. We pride ourselves on creating decks that not only stand the test of time but also exude sophistication and charm.
Elevate Your Outdoor Living
Imagine stepping onto your beautifully crafted deck, where you can bask in the sun, host memorable gatherings, or simply unwind after a long day. Our decks are designed to elevate your outdoor living experience, providing you with a private oasis right in your backyard. With NorthEast Industrial Roof, your deck becomes an extension of your home, seamlessly blending indoor comfort with outdoor serenity.
Premier Deck Services in Massachusetts: Your Deck Builder Expert
At NorthEast Industrial Roof, we offer a comprehensive range of deck-building services that transform your outdoor space into a stunning oasis, seamlessly integrating with your home's architecture and enhancing your lifestyle.
Custom Deck Design
Work closely with our expert designers to create a unique deck design, tailored to your style and preferences. From a spacious multi-level deck to a cozy retreat or an entertainment hub, we bring your ideas to life.
Premium Material Selection
As a premier deck builder in Massachusetts, we provide a variety of premium materials, from natural wood to composite decking, enhancing both aesthetics and durability.
Expert Construction
Our skilled deck builder in Massachusetts ensures your deck is constructed with top-notch quality and precision, focusing on intricate details and flawless finishing.
Seamless Integration
Achieve a harmonious flow between your deck, house, and surroundings with our seamless integration services, ensuring your deck becomes a natural extension of your living space.
Deck Upgrades and Maintenance
Transform existing decks with upgrades or expansions, and keep your deck in top condition year-round with our maintenance services.
Personalized Consultations
Experience the power of collaboration and communication through personalized consultations, where we turn your vision into reality, exceeding your expectations.
Unparalleled Customer Satisfaction
Our commitment to exceptional service, transparent communication, and outstanding results sets us apart, ensuring your satisfaction as a trusted deck builder in Massachusetts.
Comprehensive Home Exterior Services
Apart from decks, we offer a range of roofing services and more:
Gutter Services

Siding Installation

Skylight Installation
Choose NorthEast Industrial Roof: Your Premier Deck Builder in Massachusetts
Choose NorthEast Industrial Roof for unparalleled deck-building excellence. We are licensed, insured, and deeply committed to crafting custom decks that seamlessly blend with your home's aesthetics. Our BBB accreditation and 5-star reviews reflect our dedication to top-notch service.
Explore our extensive portfolio showcasing our artistry in transforming outdoor spaces. As trusted partners of roofing industry leaders like GAF Master Elite, Carlisle, and more, we ensure premium materials and innovation.
Experience the synergy of indoor comfort and outdoor beauty. NorthEast Industrial Roof's expertly crafted decks enhance home value and living space. Stay updated on Facebook, discover us on Yelp, and contact us at (781) 874-0248 to turn your outdoor space into a captivating retreat.
Elevate Your Deck: Unleash Ultimate Magic with NorthEast Industrial Roof
Unveil deck brilliance with NorthEast Industrial Roof, the wizards of Massachusetts decks, serving cities like:
Ignite your outdoor passion with deck designs that redefine relaxation. Our passion shines through every inch, delivering decks that are both your private masterpiece and a haven of tranquility. Elevate not just your deck but your entire outdoor lifestyle.
Reimagine your deck's potential – connect today at (781) 874-0248  and let NorthEast Industrial Roof conjure a captivating deck dream for you.
We strive to provide you peace of mind by ensuring superior customer service and industry-leading warranties that protect your investment for years to come.
Our multi-unit roofing specialists are committed to performing the thorough planning that is required prior to the start of your roofing project. These expert roofers understand that a successful large-scale endeavor requires meticulous project management as well as a team that possesses the drive and skill to perform the job at a high level of quality and with maximum efficiency.
What you won't receive from our team are broken promises or lame excuses. We pride our team on keeping our promises, adhering to schedules and providing value to every project we take on.
Northeast Industrial Roof has earned a reputation as Boston's premier commercial roofing contractor for our attention to detail, dedication to delivering quality commercial roofing services and utilizing the best roofing materials available on the market. Our commercial roofing team is also committed to providing our customers with: Accountability, Communication, Consideration, Cost Efficiency and Safety.

Accountability: We believe in transparency and steadfastly deliver on our promises, whether it's a price quote, project timeline or a commitment to our high standards for quality.

Communication: You'll always be up to date on the progress of your commercial roofing project and we're happy to answer all of your questions.

Consideration: We know that the noise of a roofing project can be disruptive to your work and your tenants, so we take steps to minimize the disruptions caused by construction noises. We're also vigilant about managing the roofing debris, tools and materials so that life can continue as normal during the project.

Cost efficiency: We strive to complete your project within budget and on deadline while providing top-quality results.

Safety: Northeast Industrial Roof is diligent about the safety of our employees and customers. Our roofers are safety-trained and always utilize the proper PPE and fall protection.
Founded in 2013, Northeast Industrial Roof has an A+ rating from the Better Business Bureau, is a GAF-Certified™ installer, and has 5-star ratings on Google, Birdeye, Yelp and more. When you need quality roofing services for your multi-unit, Northeast Industrial Roof is the best choice.