Roofing Bedford MA: Professional Roofing Contractors at Your Service
Welcome to Northeast Industrial Roof, your premier roofing Bedford MA company! With a solid reputation and years of experience, we take immense pride in providing top-quality roofing Bedford MA solutions for both commercial and residential properties. As the leading roofing Bedford MA contractors, we are committed to excellence, customer satisfaction, and unparalleled craftsmanship. Whether you need roof repairs, replacements, installations, or maintenance, Northeast Industrial Roof is here to exceed your expectations.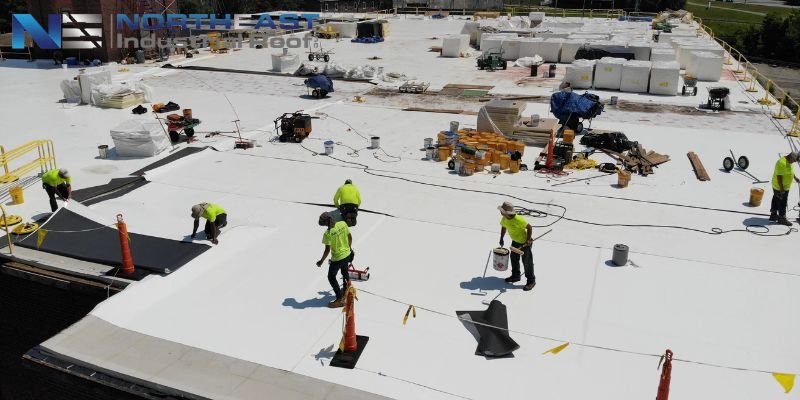 Free Winchester MA Roofing Estimate: Call (781) 874-0248 Today!
Comprehensive Commercial-Industrial Roofing Services in Bedford MA
In Bedford MA, where weather conditions can be unpredictable, having a sturdy and reliable roof is of utmost importance. Northeast Industrial Roof specializes in offering comprehensive commercial and industrial roofing services to meet the diverse needs of the community.
From warehouses and factories to office buildings and retail spaces, we have successfully completed numerous roofing projects for businesses across Bedford MA. Our team's expertise allows us to handle large-scale commercial roofing with precision and efficiency. Taking into account factors such as the building's architecture, size, and purpose, we recommend the most suitable roofing materials and styles. With our expert services, your commercial and industrial property will be well-protected and visually appealing.
When it comes to 
commercial industrial
roofing, we are the experts you can trust. We offer a comprehensive range of services to cater to the unique needs of businesses in
Bedford 
MA and the surrounding areas. Whether you require
EPDM Rubber Roofing
,
TPO roofing
,
PVC roofing
,
Green roofs
, Flat roofs,
Metal roofs
, waterproofing and coatings, or any other
commercial roofing system
, we have you covered. Our expertise also extends to specialized services like
snow removal
,
condo roofing
,
roof curbs and skylights
,
solar energy systems
,
cool roof technology
,
single-ply roofing
, and
roof insulation
. 
Your commercial or industrial property deserves a roof that not only provides protection but also enhances its overall appearance. At Northeast Industrial Roof, we specialize in expert commercial and industrial roofing services in
Bedford
MA.  Our portfolio includes
successful projects
in various industries, including office complexes, condos, manufacturing facilities, retail centers, warehouses, and educational institutions.
High-Quality Residential Roofing Bedford MA Solutions: Bedford MA's Leading Contractors
For homeowners in Bedford MA, we understand that your home is your most significant investment, and protecting it is of utmost importance. Harsh weather conditions, extreme temperatures, and seasonal changes demand a roofing system that can withstand the test of time. Northeast Industrial Roof's team of expert roofing contractors is well-versed in providing high-quality residential roofing solutions that ensure the longevity and durability of your roof.
We offer a wide range of roofing options, including shingle roofs, EPDM rubber roofs, metal roofs, slate roofs, and more. Our experienced professionals will work closely with you to understand your preferences and guide you in choosing the perfect roofing material that complements your home's aesthetics and enhances its value. Additionally, we provide custom metal work, gutter installation, skylight setup, and emergency repair services to ensure your home is well-protected at all times.
Industrial Commercial Roof Replacement Contractors: Trustworthy Solutions for Bedford MA Businesses
As Bedford MA's thriving business community continues to grow, the need for reliable industrial-grade roofing Bedford MA solutions becomes paramount. Industrial properties require specialized roofing services that can endure the demands of heavy operations and offer maximum protection. Northeast Industrial Roof's industrial commercial roof replacement contractors are well-equipped to handle even the most complex roofing Bedford MA projects for businesses.
Whether it's a warehouse, manufacturing facility, or commercial office space, our team has the expertise to recommend the best roofing materials and styles to suit the specific needs of your property. We understand the significance of minimizing downtime during roof replacement, and our professionals work efficiently to complete the project within the agreed-upon timeline, ensuring a seamless transition and minimal disruption to your business operations.
Premium Commercial Roofing Installations: Elevate Your Bedford MA Property's Aesthetics and Value
The appearance and functionality of a commercial building's roof play a significant role in its overall aesthetics and value. At Northeast Industrial Roof, we offer premium commercial roofing installations that elevate the visual appeal of your property while ensuring long-term protection.
Our roofing Bedford MA experts are well-versed in a wide range of commercial roofing materials, styles, and designs. Whether you prefer modern and sleek or classic and timeless, we have the perfect roofing solution to match your architectural preferences. Our commitment to using high-quality materials and employing skilled craftsmanship guarantees a durable and reliable roof that will stand the test of time.
Residential Roof Replacement Contractors: Premium Roofing Bedford MA Solutions for Homes
When it's time for a roof replacement on your residential property in Bedford MA, choosing the right contractors is vital. Northeast Industrial Roof's team of residential roof replacement contractors is dedicated to providing premium roofing Bedford MA solutions for homes of all sizes and types.
We understand that every home is unique, and our personalized approach ensures that we cater to your specific 
roofing Bedford MA
 needs. Our experts will assess the condition of your existing roof and provide professional recommendations for the most suitable replacement materials and styles. Whether you prefer a traditional shingle roof or a modern metal roof, we have the expertise to deliver exceptional results that exceed your expectations.
Industrial Roof Installation Contractors: Seamless Roofing Bedford MA for All Property Types
Industrial properties in Bedford MA require specialized roofing solutions, and Northeast Industrial Roof's industrial roof installation contractors have the expertise to deliver just that. Whether you are constructing a new industrial facility or need a roof replacement for an existing property, we have the knowledge and experience to meet your roofing needs.
Our team stays updated with the latest industry trends and practices, allowing us to provide state-of-the-art roofing solutions that enhance the efficiency and functionality of your industrial space. We work closely with you to understand your requirements and budget, ensuring that you get the best value for your investment.
Commercial and Industrial Roof Maintenance Contractors: Ensuring Longevity and Reliability in Bedford MA
Regular roof maintenance is essential to prolong the life of your commercial or industrial roof and prevent costly repairs in the future. At Northeast Industrial Roof, we offer comprehensive roof maintenance services to ensure the longevity and reliability of your roofing system.
Our experienced contractors conduct thorough inspections and identify potential issues early on. With proactive care and timely repairs, we help you avoid costly downtime and maintain the integrity of your property's roof. Our tailored maintenance plans are designed to meet your specific needs and budget, allowing you to focus on your business operations with complete peace of mind.
Commercial and Residential Roof Repair Contractors: Swift and Efficient Roof Repairs in Bedford MA
Roof damage can occur due to various factors, such as severe weather, falling debris, or aging materials. When you need swift and efficient roof repairs in Bedford MA, Northeast Industrial Roof is your trusted partner.
Our roof repair contractors respond promptly to your service requests and arrive fully equipped to address the issue effectively. We understand that roof repairs are time-sensitive and require immediate attention. Rest assured, our team will work diligently to restore the integrity of your roof, ensuring that your property is well-protected from further damage.
Top-notch Residential Roof Maintenance Contractor: Proactive Care for Your Roof in Bedford MA
As a homeowner, maintaining the condition of your roof is essential to protect your family and investment. Our top-notch residential roof maintenance services are tailored to provide proactive care for your roof in Bedford MA.
Our skilled contractors conduct comprehensive inspections and maintenance tasks, such as gutter cleaning, shingle replacement, and leak detection. With our regular maintenance, you can rest assured that your roof remains in optimal condition, with minimal chances of unexpected damage or leaks. Protect your home with our reliable residential roof maintenance services.
Conclusion: Choose Northeast Industrial Roof for Superior Roofing Services in Bedford MA
When it comes to roofing services in Bedford MA, Northeast Industrial Roof stands out as a reliable, professional, and customer-oriented company. Our team of experts is dedicated to delivering top-quality solutions for all your roofing  Bedford MA needs. Whether it's commercial or residential roofing, roof replacements, installations, repairs, or maintenance, we have the expertise to get the job done efficiently.
Our 100% focused team is dedicated to providing an exceptional customer service experience, going the extra mile to safeguard your property. When
choosing a reliable and top-quality roofing contractor in Wilmington MA
, Northeast Industrial Roof is your go-to source. Fully licensed, insured, and committed to delivering top-notch workmanship, we prioritize your needs with unmatched customer service and exceptional projects. Partnering with respected roofing manufacturers such as
GAF Master Elite Roofing
,
Carlisle
, Sika,
Certainteed
, Firestone, Elevate, Fiberlite, and Versico, we offer state-of-the-art materials and full manufacturer's warranties for your peace of mind.
Contact us
 today to schedule a consultation and experience the difference of working with leading roofing Bedford MA contractors – Northeast Industrial Roof
Northeast Industrial Roof is standing by to answer any commercial roofing questions you may have.