EPDM Rubber Roofing in Massachusetts
EPDM Service Provider in Massachusetts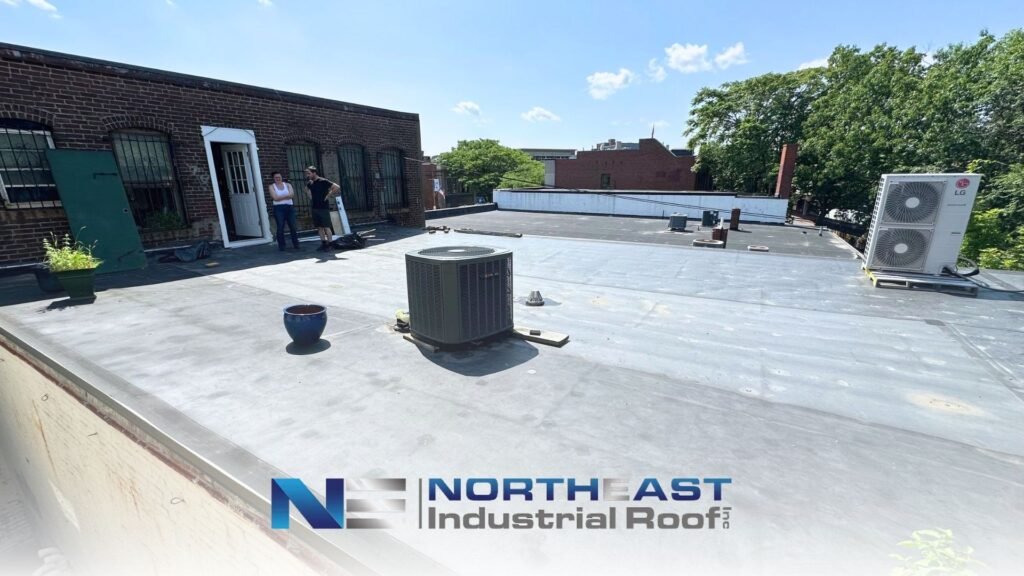 Welcome to NorthEast Industrial Roof premier service page for EPDM Rubber Roofing in Massachusetts for residential properties. We take immense pride in offering top-quality EPDM rubber roofing solutions for homeowners, ensuring their homes remain well-protected and aesthetically pleasing for years to come.
What is EPDM Rubber Roofing?
EPDM stands for Ethylene Propylene Diene Monomer, a type of synthetic rubber that has gained immense popularity in the roofing Massachusetts industry due to its exceptional durability and weather-resistant properties. EPDM rubber roofing is widely used in residential settings for its ability to protect homes from various elements, including rain, snow, UV rays, and extreme temperatures.
                           Free Roofing Estimate: Call (781) 874-0248 Today!


Why Choose EPDM Rubber Roofing for Your Home?
Longevity: EPDM rubber roofs have a proven track record of longevity, with a typical lifespan of 30 to 50 years when properly installed and maintained. This means you can have peace of mind knowing that your investment in EPDM roofing will provide long-lasting protection for your home.
Weather Resistance: Whether it's heavy rain, strong winds, hail, or scorching sunlight, EPDM rubber roofing can withstand all types of weather conditions without deteriorating. It doesn't crack, peel, or warp over time, ensuring continuous protection for your residential property.
Cost-Effectiveness: While EPDM rubber roofing may have a higher upfront cost compared to some traditional roofing materials, its long lifespan and minimal maintenance requirements make it a cost-effective choice in the long run. You'll save money on repairs and replacements over the years.
Energy Efficiency: EPDM rubber roofs come in various colors, including white, which reflects sunlight and helps keep your home cooler during hot summer months. This can lead to reduced energy consumption and lower utility bills.
Environmentally Friendly: EPDM rubber roofing is considered an environmentally friendly roofing option. It is recyclable, and its long lifespan means less waste ends up in landfills compared to other roofing materials with shorter lifespans.
Our Residential EPDM Rubber Roofing Services
At NorthEast Industrial Roof, we offer comprehensive EPDM rubber roofing services tailored specifically to meet the needs of residential properties. Our team of skilled professionals is experienced in handling EPDM roofing installations, repairs, and maintenance, ensuring that your home is well-protected and visually appealing.
EPDM Roof Installation: Our experts will assess your residential property and provide personalized EPDM roofing solutions that fit your needs and budget. With precise installation techniques, we ensure a seamless and durable roofing system for your home.
EPDM Roof Repair: If you have an existing EPDM rubber roof that requires repairs due to leaks, punctures, or other issues, our team will promptly address the problems and restore the integrity of your roofing system. Timely repairs can prevent further damage and extend the life of your EPDM roof.
EPDM Roof Maintenance: Regular maintenance is key to prolonging the lifespan of your EPDM rubber roof. Our maintenance services include inspections, cleaning, and minor repairs, ensuring that your roof remains in optimal condition year after year.
Roofing Upgrades and Enhancements: If you want to enhance the energy efficiency or aesthetic appeal of your home, we offer roofing upgrades such as adding insulation or installing EPDM rubber roofing in various colors to suit your preferences.
                          Get a Free Quote Today. Call us at

(781) 874-0248

 Now!




Our Diverse Residential Roofing Solutions
EPDM Rubber Roofing

: As experts in EPDM rubber roofing, we offer precise installations, repairs, and maintenance to ensure your home is well-protected and visually appealing.

Roof Installation: Whether you need a new roof for a new construction project or a roof replacement, our team will guide you through the process and deliver a reliable roofing system for your home.
Roof Repair: If your existing roof is experiencing leaks, damages, or other issues, our prompt and efficient roof repair services will restore its integrity and prolong its lifespan.
Roof Replacement: If your roof has reached the end of its lifespan or suffered extensive damage, we provide reliable and durable roof replacement solutions to ensure your home stays protected.
Shingle Roofing: Our shingle roofing services provide a classic and versatile option that complements various architectural styles while offering excellent protection.
Metal Roofing: Metal roofs are durable, long-lasting, and energy-efficient. Our metal roofing services ensure your home remains secure and well-insulated.
Siding: Enhance the appearance and energy efficiency of your home with our siding solutions that come in a variety of materials and colors.
Gutter Installation and Repair: Properly functioning gutters are crucial for protecting your home from water damage. Our gutter services ensure optimal water drainage and prevent potential issues.
Skylight Installation: Bring natural light into your living spaces with our expert skylight installation services, creating a brighter and more inviting atmosphere.
Deck Installation: Transform your outdoor space with our deck installation services, providing you with a perfect spot to relax and enjoy outdoor activities.
                           Free Roofing Estimate: Call (781) 874-0248 Today!


Why Choose NorthEast Industrial Roof for Your EPDM Rubber Roofing Needs?
Expertise and Experience: We have years of experience in the roofing industry, and our team is well-versed in handling EPDM rubber roofing projects for residential properties. You can trust us to deliver excellent results every time.
Quality Materials: At NorthEast Industrial Roof, we source the highest quality EPDM rubber roofing materials to ensure the durability and longevity of your roof. Our commitment to using top-notch materials sets us apart from the competition.
Professional Service: From the initial consultation to the completion of the project, we prioritize professionalism and customer satisfaction. Our friendly team will guide you through the process, addressing any questions or concerns you may have.
Timely Project Completion: We understand the importance of timely project completion for homeowners. Rest assured, we work diligently to complete the EPDM rubber roofing project within the agreed-upon timeframe.
Licensed and Insured: NorthEast Industrial Roof is a fully licensed and insured roofing company, providing you with added protection and peace of mind during the roofing process.


EPDM Service Provider in Massachusetts
As a leading EPDM service provider in Massachusetts, NorthEast Industrial Roof takes pride in offering top-quality EPDM rubber roofing solutions for residential properties. Our services cover a wide range of locations throughout Massachusetts, including:
EPDM rubber roofing is an excellent choice for residential properties due to its durability, weather resistance, and energy efficiency. At NorthEast Industrial Roof, we are dedicated to providing top-quality EPDM rubber roofing services for homeowners, ensuring their homes remain well-protected and visually appealing for decades. Trust our expertise, experience, and commitment to deliver the best roofing solutions tailored to your specific needs. Contact us today to schedule a consultation and take the first step towards securing a long-lasting and reliable EPDM rubber roof for your home
We strive to provide you peace of mind by ensuring superior customer service and industry-leading warranties that protect your investment for years to come.
Our multi-unit roofing specialists are committed to performing the thorough planning that is required prior to the start of your roofing project. These expert roofers understand that a successful large-scale endeavor requires meticulous project management as well as a team that possesses the drive and skill to perform the job at a high level of quality and with maximum efficiency.
What you won't receive from our team are broken promises or lame excuses. We pride our team on keeping our promises, adhering to schedules and providing value to every project we take on.
Northeast Industrial Roof has earned a reputation as Boston's premier commercial roofing contractor for our attention to detail, dedication to delivering quality commercial roofing services and utilizing the best roofing materials available on the market. Our commercial roofing team is also committed to providing our customers with: Accountability, Communication, Consideration, Cost Efficiency and Safety.

Accountability: We believe in transparency and steadfastly deliver on our promises, whether it's a price quote, project timeline or a commitment to our high standards for quality.

Communication: You'll always be up to date on the progress of your commercial roofing project and we're happy to answer all of your questions.

Consideration: We know that the noise of a roofing project can be disruptive to your work and your tenants, so we take steps to minimize the disruptions caused by construction noises. We're also vigilant about managing the roofing debris, tools and materials so that life can continue as normal during the project.

Cost efficiency: We strive to complete your project within budget and on deadline while providing top-quality results.

Safety: Northeast Industrial Roof is diligent about the safety of our employees and customers. Our roofers are safety-trained and always utilize the proper PPE and fall protection.
Founded in 2013, Northeast Industrial Roof has an A+ rating from the Better Business Bureau, is a GAF-Certified™ installer, and has 5-star ratings on Google, Birdeye, Yelp and more. When you need quality roofing services for your multi-unit, Northeast Industrial Roof is the best choice.