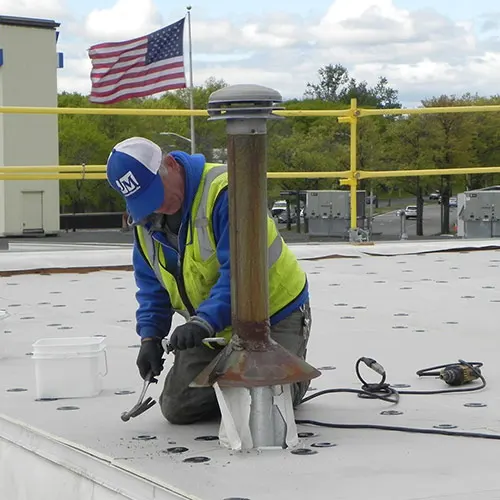 Beacon Hill's Preferred Commercial Roofers
Northeast Industrial Roof helps business owners and property managers in the Beacon Hill area of Boston find the roofing solutions that are right for their properties. Our roofers are flat-roof specialists dedicated to preventing roofing problems before they happen so that the people and things inside remain safe and secure.

We are an experienced team of professional commercial roofers ready to serve your commercial, industrial and multifamily roofing needs. Serving Beacon Hill, our roofers are licensed, certified and widely experienced working with all types of flat and low-slope roofing. Since 2013, we've helped hundreds of property owners and managers solve their roofing issues, gaining their trust in our efficient, cost-effective roofing solutions along the way.
Commercial, Industrial and MultiFamily Roofing Specialists
Northeast Industrial Roof is 100% committed to providing quality commercial roofing services to businesses in the Beacon Hill area of Boston.

We offer a wide range of flat and low-slope roofing services including:
Our roofers are vastly experienced and knowledgeable about many different types of commercial roofing, including:
The team at Northeast Industrial Roof is not only dedicated to providing great roofing; we're also committed to ensuring the safety and value of your property. Our quality guarantee comes with a sincere promise to carefully follow OSHA's safety protocols, and we ensure that our roofers understand and uphold all safety and quality standards.
Beacon Hill Commercial Roofing Experts
Northeast Industrial Roof stands by our work with industry-leading warranties, world-class customer service and a willingness to go the extra mile to ensure your 100% satisfaction. When you need high-performing, cost-effective commercial roofing services for your flat or low-slope roof, give Northeast Industrial Roof a call at
(781) 874-0248
to schedule your estimate.
Cities and towns we serve in the Boston area include the following:
Amesbury
Beverly
Boxford
Danvers
Essex
Georgetown
Gloucester
Groveland
Hamilton
Haverhill
Ipswich
Lynn
Lynnfield
Manchester
Marblehead
Merrimac
Middleton
Nahant
Newbury
Newburyport
Peabody
Rockport
Rowley
Salem
Salisbury
Saugus
Swampscott
Topsfield
Wakefield
Wenham
West Newbury
24/7 Emergency
Roof Repair Services
We provide emergency commercial roofing services 24/7 to allow you to rest easy knowing that your roof can be cared for no matter what time of day or night.