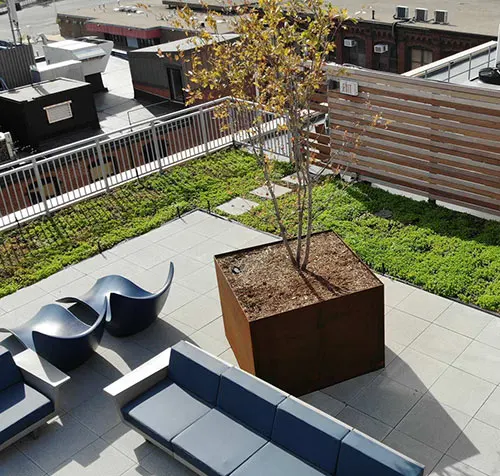 A green roof is a type of layered ballasted roof that consists of a growing medium and plants overlying a waterproof membrane. A green roof can replace a traditional roof and provide many benefits both immediately and over time.

The phenomenon known as the green roof is becoming more popular each year in an effort to reduce energy consumption, support biodiversity and make good use of typically unused space. Historically, green roofs — also known as 'vegetated or 'living' roofs — appeared in parts of the world where building materials were limited, so turf was utilized as a roofing material. Today, green roofs replace a hard infrastructure with one that's not only more efficient but also beautiful and useful.

It's important to keep in mind that green roofs, like traditional roofs, require regular inspections to check for weathering, damage or drainage issues and to care for the vegetation. Like any garden, a green roof needs to be weeded and nurtured, fertilized and monitored to make sure that plants are healthy and the ecosystem is thriving. Talk to our experts to learn more about green roof maintenance.
This type of green roof closely resembles a park with trees, shrubs, walkways and seating areas. Intensive green roofs require a layer of growing medium that is at least 12 inches deep to support irrigation, drainage and root protection. The growing medium weighs roughly 80-150 pounds per square foot. Intensive green roofs are able to be enjoyed by building occupants as well as provide opportunities for biodiversity by being an attractive habitat for native animals, insects, reptiles and plants.
For buildings without the structural strength to support an intensive green roof, an extensive green roof is a great alternative choice. Extensive green roofs weigh much less than intensive roofs at roughly 15-50 pounds per square foot. The growing medium, at a depth of six inches or less, can support vegetation that requires little to no maintenance but provides hearty ground cover. Extensive green roofs, which aren't typically accessible to building occupants, are usually implemented primarily for the eco-friendly and roof protection benefits.
Green roofs integrate native vegetation with the building's structure by making a typically neglected space useful and enjoyable while providing a wide range of environmental, aesthetic, health and economic advantages. The enjoyment a green roof can bring can far outweigh the starting cost of implementing the roof, and green roofs can increase property value, particularly in urban areas.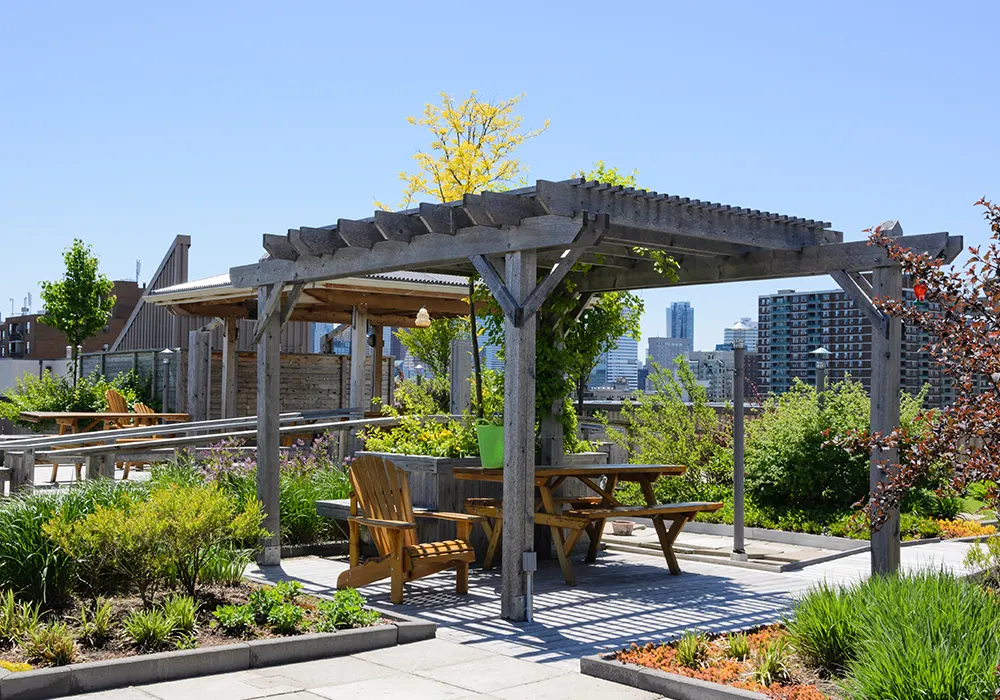 Get Started Today by Calling
Northeast Industrial Roof
Green roofs can bring vibrant, lively spaces into urban areas. In addition to their environmental benefits, green roofs can provide a space for people to get outside more, which supports mental and physical health. They can accommodate vegetable and herb gardens, which can provide nutritional food to the native species and humans as well as give building occupants a collaborative project to work on.