Welcome to NorthEast Industrial Roof, your premier destination for top-quality siding solutions for residential properties in Massachusetts. When it comes to enhancing the visual charm, energy efficiency, and overall value of your residential property, selecting the perfect siding holds the utmost significance. At NorthEast Industrial Roof, we deeply understand the importance of top-quality residential siding in transforming your house into a warm and visually captivating home. 
Backed by our expertise in the roofing industry, we comprehend the distinctive demands of homeowners seeking roofing options in Massachusetts that embody durability, energy efficiency, and captivating aesthetics. Our siding roofs epitomize unmatched advantages tailored precisely to residential needs, establishing them as the quintessential selection for enhancing your home.
Get a Free Quote Today. Call us at (781) 874-0248 Now!
Unmatched Protection and Longevity for Your Residence
Investing in high-grade residential siding in Massachusetts is synonymous with investing in the long-term protection of your home. Our comprehensive collection of siding materials is meticulously crafted to withstand the challenges posed by Northeastern weather conditions, including heavy rainfall, freezing temperatures, and strong winds. By entrusting us with the expert installation of our resilient siding, you can rest assured that your home's exterior will stay tough and durable, guaranteeing your family's safety and comfort throughout the year.
Transforming Your Home's First Impression
The curb appeal of your home plays a pivotal role in leaving a lasting impact on visitors and potential buyers alike. Our thoughtfully curated selection of residential siding options empowers you to choose from an array of colors, textures, and styles that seamlessly harmonize with your home's architectural design. Whether you lean towards the timeless allure of classic vinyl siding or the rustic elegance of cedar shakes, we have the ideal siding solution in Massachusetts to elevate your home's visual allure.
Minimal Upkeep, Maximum Value
We recognize that homeowners lead busy lives, which is why we offer siding materials that demand minimal maintenance. Our low-maintenance siding options empower you to relish in the beauty and safeguarding of your home without the constant hassle of maintenance. The inherent durability of our siding in Massachusetts ensures that it retains its shine and quality for years to come, adding enduring value to your property.
Why Choose NorthEast Industrial Roof for Your Residential Siding Needs?
Established in 2013, NorthEast Industrial Roof is your trusted partner for exceptional residential siding solutions. As a licensed, insured, and BBB-accredited expert in the field, we distinguish ourselves with an unwavering commitment to quality and excellence. When it comes to elevating your home's exterior with premium siding in Massachusetts, our track record speaks for itself, offering a host of compelling reasons to choose us:
Superior Siding in Massachusetts:  Materials & Masterful Installation
Our dedication to perfection begins with the materials we use and the precision of our installation. At NorthEast Industrial Roof, we exclusively employ top-tier siding materials that are designed for durability and visual appeal. Our seasoned professionals adhere to industry best practices, ensuring a flawless and secure fit that safeguards your home against the elements. With our siding in Massachusetts, your residential property receives not only enhanced protection but also a touch of elegance that transforms your home into a masterpiece.
Exemplary Customer Satisfaction
At NorthEast Industrial Roof, customer satisfaction is the cornerstone of our operations. Our unwavering commitment to delivering premier products and services has earned us a reputation as a reliable provider of residential siding  solutions. We take immense pride in surpassing our customer's expectations by offering tailor-made solutions, transparent communication, and steadfast support throughout the siding installation journey.
Personalized Aesthetics and Tailored Choices
We understand that your home is an extension of your personality and style. That's why we offer a diverse selection of siding materials, colors, and textures, allowing you to personalize your home's appearance to reflect your unique taste. Whether you prefer the rustic charm of wood siding or the sleek sophistication of modern fiber cement, NorthEast Industrial Roof empowers you to curate an exterior that resonates with your vision.
Comprehensive Siding Services
Just as a roof is more than mere shingles, siding encompasses a range of needs. At NorthEast Industrial Roof, we offer comprehensive siding services in Massachusetts that span from initial roof installation to repairs and replacements. Beyond siding, our expertise extends to a spectrum of roofing services that encompass both form and function. 
From meticulous roof installation and precise roof replacement to timely roof repair, NorthEast Industrial Roof is your trusted partner for all roofing needs. Our services cover metal roofing that brings durability and elegance together, as well as shingle roofing that strikes the perfect balance between classic charm and modern resilience.
Our expertise extends to every aspect of residential siding in Massachusetts, ensuring that your home's exterior remains structurally sound, visually appealing, and resilient over time.
Prompt Repairs and Ongoing Maintenance
We recognize the importance of swift action when it comes to addressing siding issues. Our skilled and responsive team is dedicated to promptly addressing any concerns, whether it's a minor repair or maintenance task. By addressing issues in a timely manner, we help maintain the integrity of your siding, preserving the beauty and protection of your home.
Transparent Pricing and Unwavering Satisfaction
Transparency and customer satisfaction are the cornerstones of our service philosophy. At NorthEast Industrial Roof, we believe in fair and transparent pricing, ensuring that you have a clear understanding of the costs involved. Our commitment to your satisfaction goes beyond words – it's backed by our actions. We are dedicated to delivering not only exceptional siding solutions but also a customer-centric experience that instills peace of mind.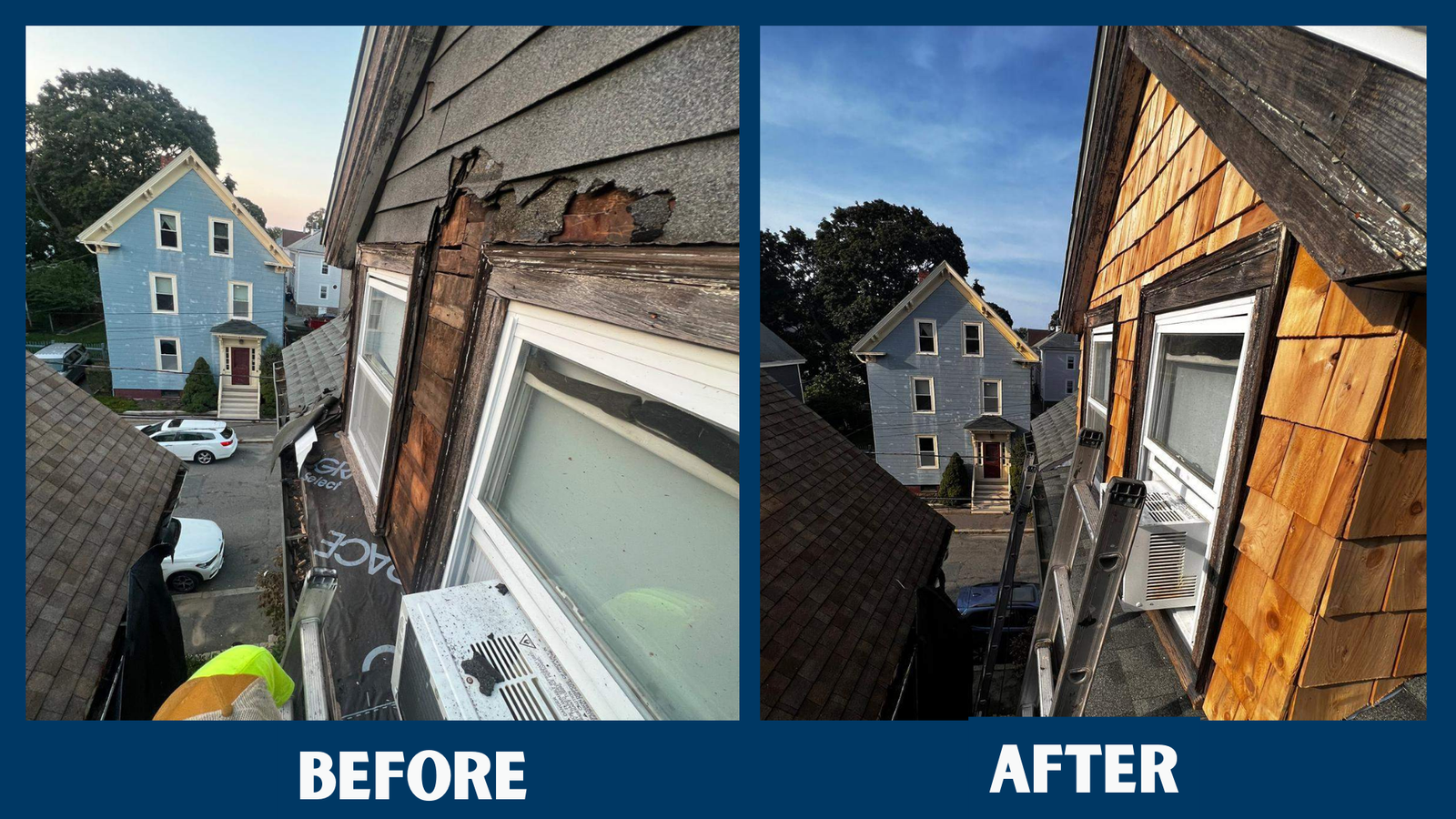 Leading the Way in Residential Siding in Massachusetts: Serving Massachusetts Communities
NorthEast Industrial Roof takes immense pride in being the premier residential siding service provider in Massachusetts. Our team of experts is driven by a passion for excellence and a dedication to serving homeowners in various cities across the state, including:
With NorthEast Industrial Roof, your residential siding needs are not just met – they are exceeded, ensuring that your home receives the attention to detail, quality, and care it deserves. 
Contact Us Today for a Transformative Experience
Elevate the exterior of your home to unprecedented heights with NorthEast Industrial Roof's premium residential siding solutions. Our unwavering dedication to quality, style, and functionality ensures that your home remains well-shielded and visually captivating. Contact us today at (781) 874-0248 to embark on a journey of transformative siding solutions that elevate your home's exterior to new heights of beauty and functionality. Let us collaborate with you to turn your residential property into a true masterpiece of durability and design.
We strive to provide you peace of mind by ensuring superior customer service and industry-leading warranties that protect your investment for years to come.
Our multi-unit roofing specialists are committed to performing the thorough planning that is required prior to the start of your roofing project. These expert roofers understand that a successful large-scale endeavor requires meticulous project management as well as a team that possesses the drive and skill to perform the job at a high level of quality and with maximum efficiency.
What you won't receive from our team are broken promises or lame excuses. We pride our team on keeping our promises, adhering to schedules and providing value to every project we take on.
Northeast Industrial Roof has earned a reputation as Boston's premier commercial roofing contractor for our attention to detail, dedication to delivering quality commercial roofing services and utilizing the best roofing materials available on the market. Our commercial roofing team is also committed to providing our customers with: Accountability, Communication, Consideration, Cost Efficiency and Safety.

Accountability: We believe in transparency and steadfastly deliver on our promises, whether it's a price quote, project timeline or a commitment to our high standards for quality.

Communication: You'll always be up to date on the progress of your commercial roofing project and we're happy to answer all of your questions.

Consideration: We know that the noise of a roofing project can be disruptive to your work and your tenants, so we take steps to minimize the disruptions caused by construction noises. We're also vigilant about managing the roofing debris, tools and materials so that life can continue as normal during the project.

Cost efficiency: We strive to complete your project within budget and on deadline while providing top-quality results.

Safety: Northeast Industrial Roof is diligent about the safety of our employees and customers. Our roofers are safety-trained and always utilize the proper PPE and fall protection.
Founded in 2013, Northeast Industrial Roof has an A+ rating from the Better Business Bureau, is a GAF-Certified™ installer, and has 5-star ratings on Google, Birdeye, Yelp and more. When you need quality roofing services for your multi-unit, Northeast Industrial Roof is the best choice.