Shingle Roofing in Massachusetts
Shingle Roofs for Massachusetts' Residential Needs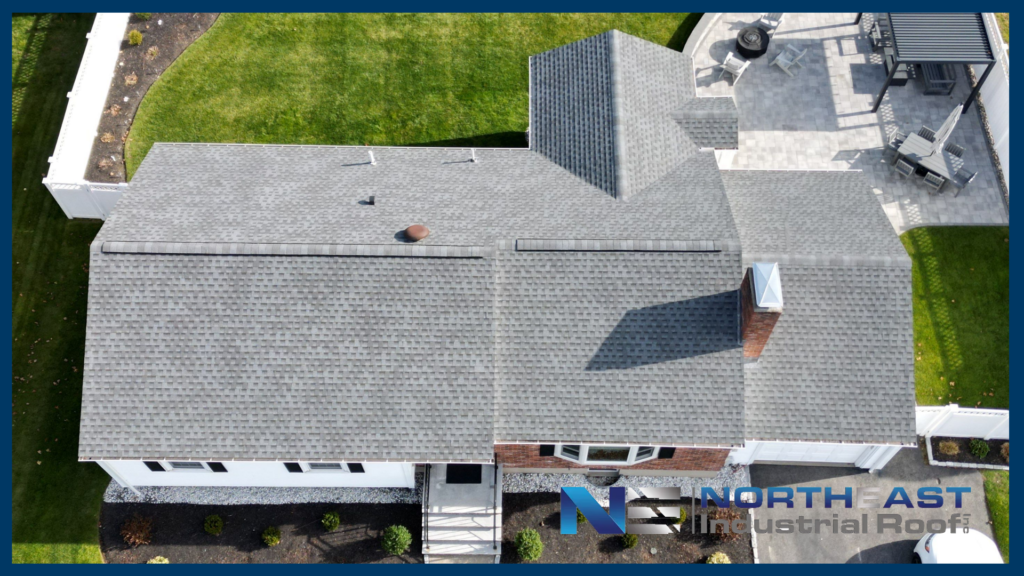 Welcome to NorthEast Industrial Roof, your trusted provider of high-quality shingle roofs for residential properties. We understand the importance of a durable and aesthetically pleasing roof for your home, and that's why we offer a wide range of shingle roofing options to suit your needs. With years of experience in the roofing Massachusetts industry, we take pride in delivering top-notch services that guarantee customer satisfaction and long-lasting results.
Get a Free Quote Today. Call us at

(781) 874-0248

 Now!

The Beauty of Shingle Roofs
Shingle roofs have been a popular choice for residential properties for decades, and for good reason. These roofs offer a timeless appeal that enhances the curb appeal of any home. Whether you own a modern or a traditional house, shingle roofs can complement the architectural style beautifully.
One of the significant advantages of shingle roofs is the variety of materials available. You can choose from asphalt, wood, metal, and even composite shingles, each offering unique benefits. Asphalt shingles are cost-effective and widely used, while wood shingles provide a rustic charm. Metal shingles offer exceptional durability, and composite shingles combine the best of different materials.
NorthEast Industrial Roof: Your Trusted Shingle Roofing Partner
From Medford to Cambridge, Somerville to Winchester, and beyond, NorthEast Industrial Roof is the go-to roofing company for top-notch shingle roof solutions in Massachusetts. With a reputation for excellence and a commitment to customer satisfaction, we are dedicated to enhancing homes across the state with our premium shingle roofing services.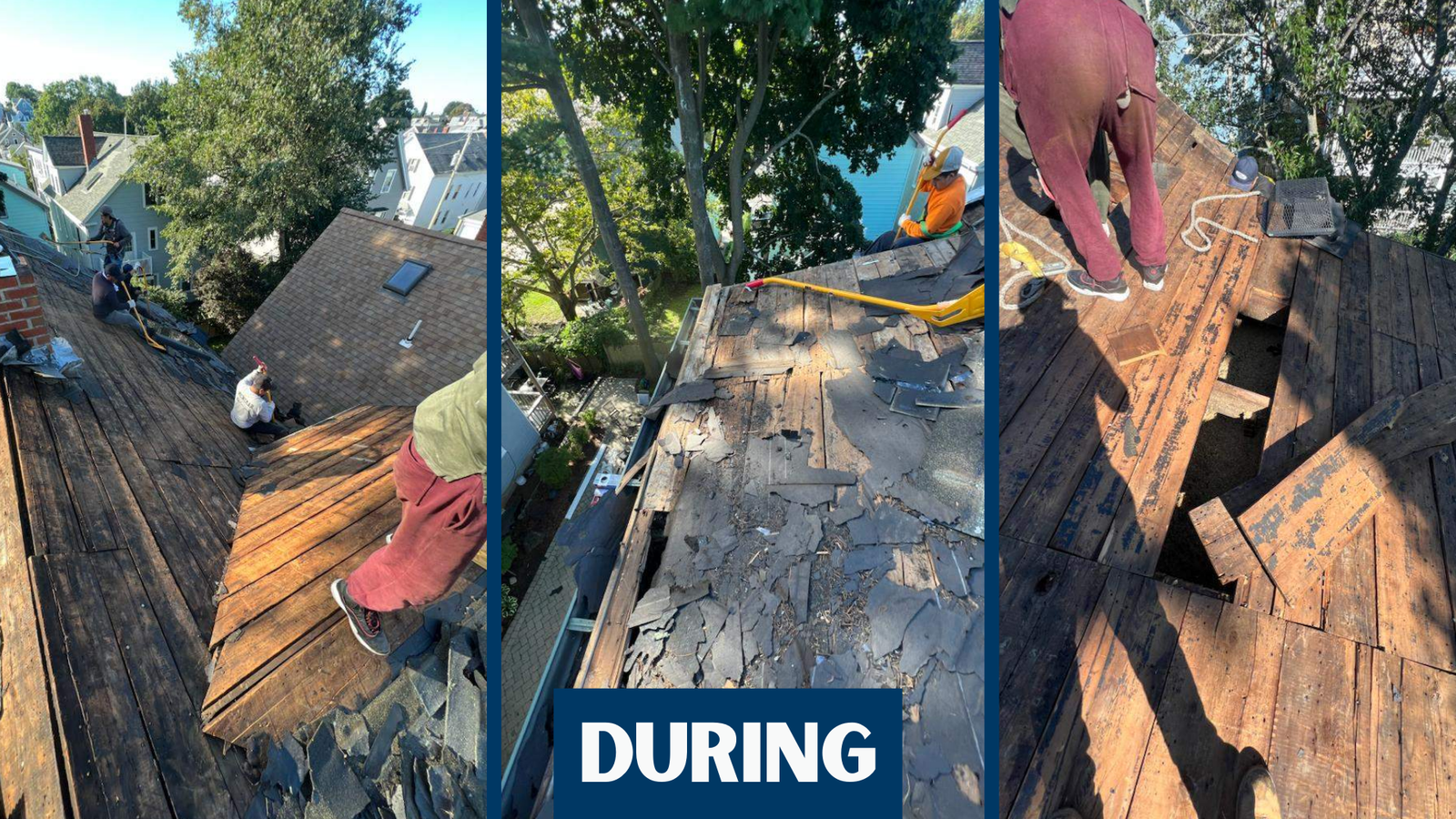 Why Choose NorthEast Industrial Roof?
Founded in 2013, NorthEast Industrial Roof is your licensed, insured, and BBB-accredited roofing expert. When it comes to shingle roofs for residential properties, we stand out with:
Quality Materials & Expert Installation: We use top-notch materials and follow best practices for a secure and precise fit.
Customization & Personalization: Choose from a wide range of shingle materials, colors, and textures to match your style.
Comprehensive Roofing Services: From roof installation to roof repair and roof replacement, we've got you covered.
Reliable Repairs & Maintenance: Our skilled team promptly addresses any roof issues to protect your home.
Transparent Pricing & Satisfaction Guarantee: Enjoy fair pricing and customer-centric service for peace of mind.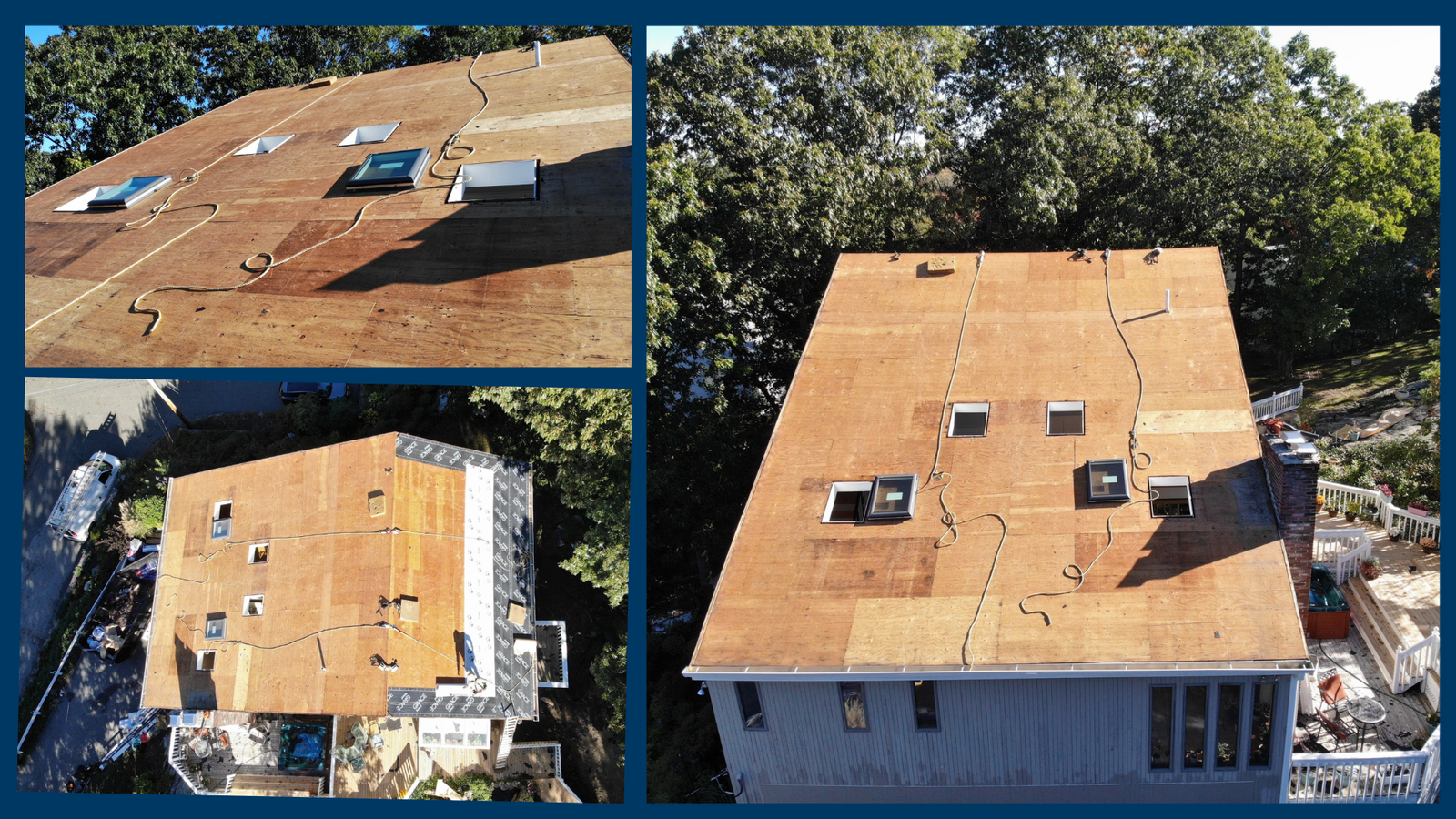 Our Process
At NorthEast Industrial Roof, we prioritize customer satisfaction and ensure a smooth and hassle-free experience from start to finish. Here's an overview of our process:
1. Consultation
We begin by understanding your roofing requirements and preferences. Our experts will conduct a thorough assessment of your home to recommend the best shingle roofing options suitable for your property.
2. Customization
Once you've chosen the shingle material and design, we proceed with the customization process. Our team will keep you informed at every step, ensuring that your vision for the perfect shingle roof becomes a reality.
3. Installation
Our skilled team of roofers will handle the installation with precision and efficiency. We take care to minimize disruptions to your daily routine and ensure that the project is completed within the agreed timeframe.
4. Inspection and Maintenance
After the installation, we conduct a thorough inspection to ensure that your new shingle roof is performing optimally. We also offer maintenance services to keep your roof in top condition and extend its lifespan.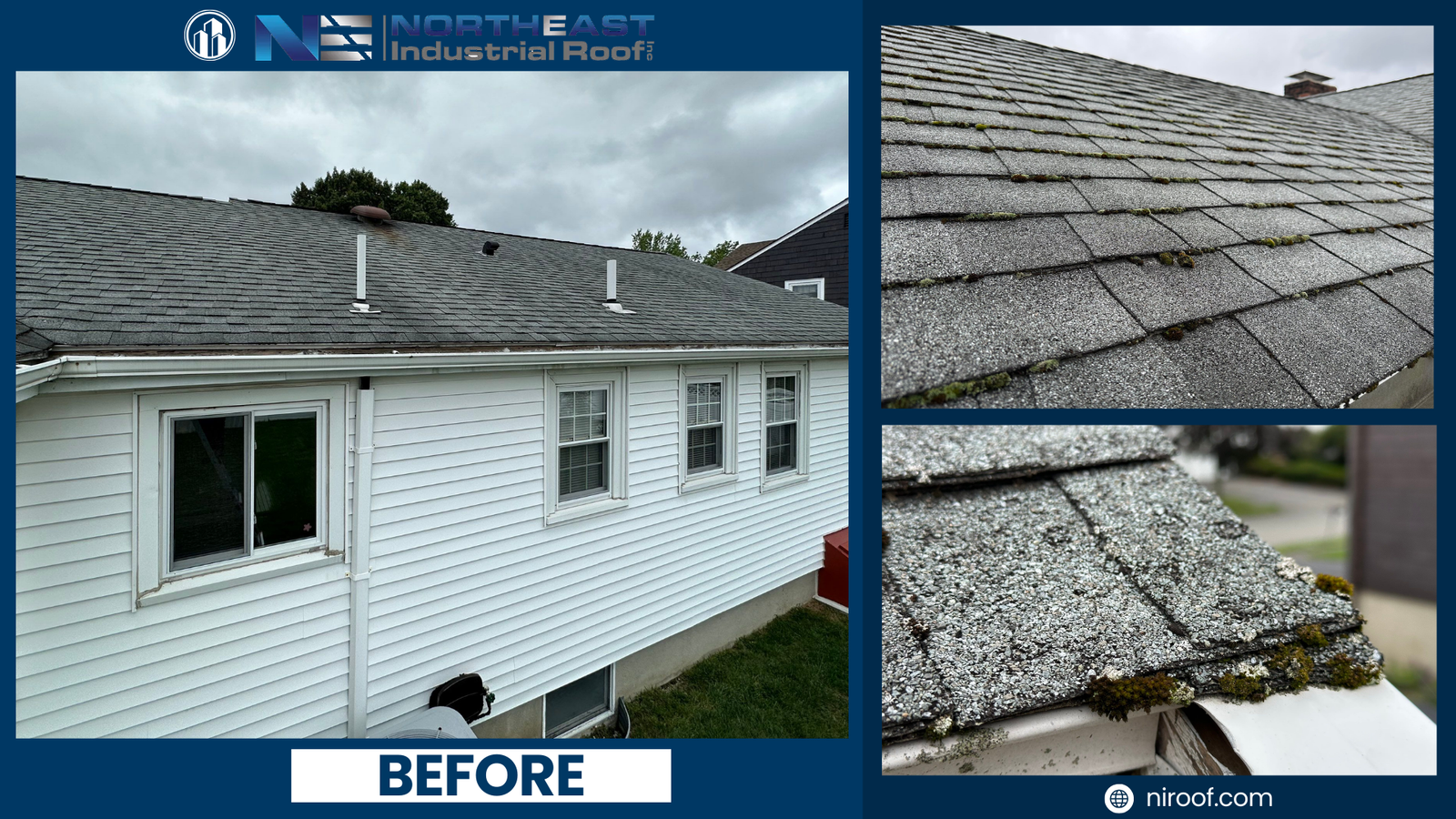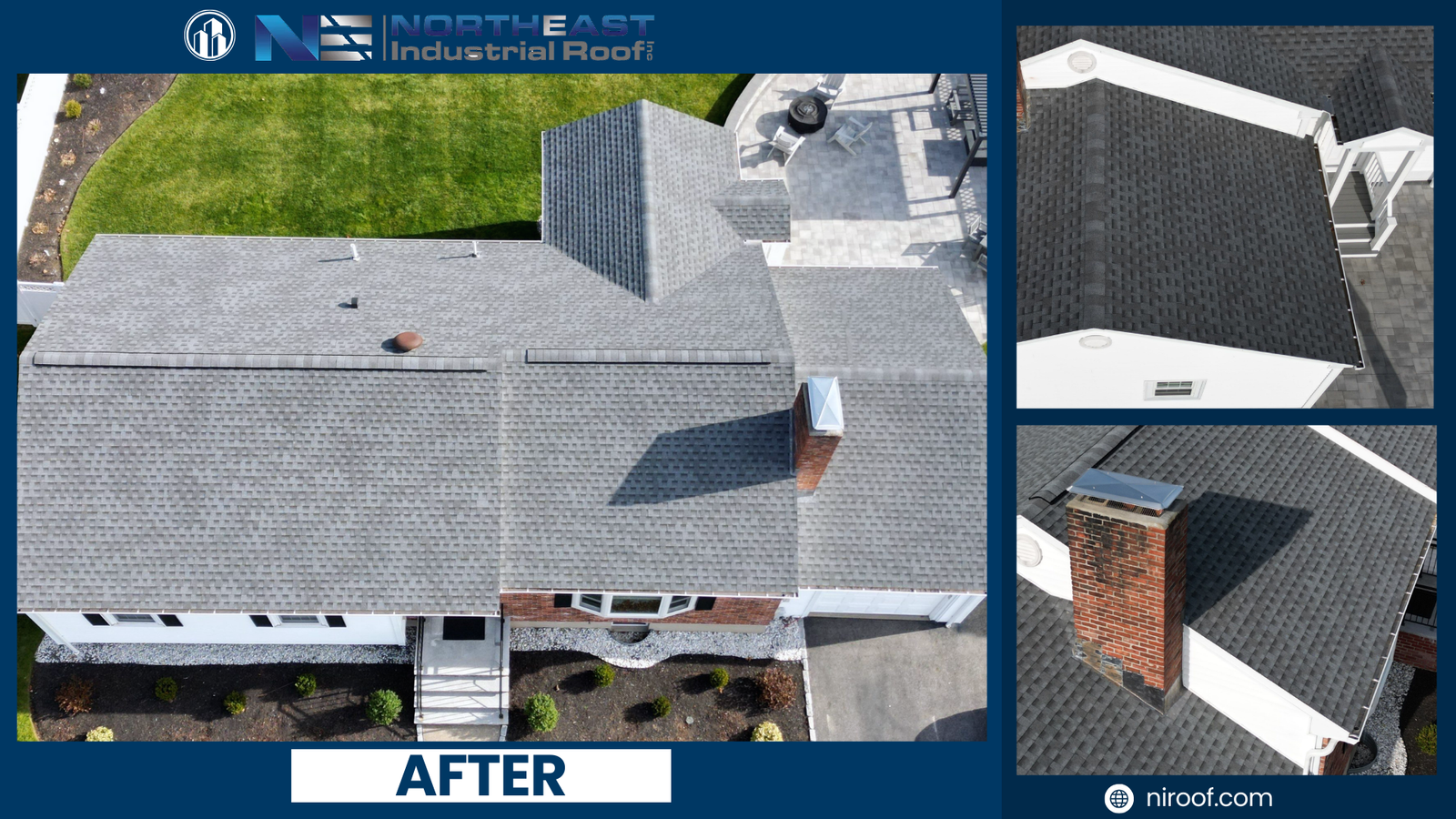 Shingle Roof Solutions for Massachusetts Homes
When it comes to enhancing the beauty and functionality of your home, investing in a shingle roof is a smart choice. At NorthEast Industrial Roof, we are dedicated to providing exceptional shingle roofing solutions for residential properties. With our commitment to quality, expert installation, and customization options, you can trust us to deliver a shingle roof that will protect and enhance your home for years to come. 
At NorthEast Industrial Roof, we proudly serve homeowners across Massachusetts, providing top-notch shingle roof solutions in various cities, including:
No matter where you are in Massachusetts, our licensed, insured, and BBB-accredited team is ready to enhance your residential property with a durable and stunning shingle roof. Contact us today to explore our range of shingle roofing options and take the first step towards securing your residential property with a durable and stunning roof.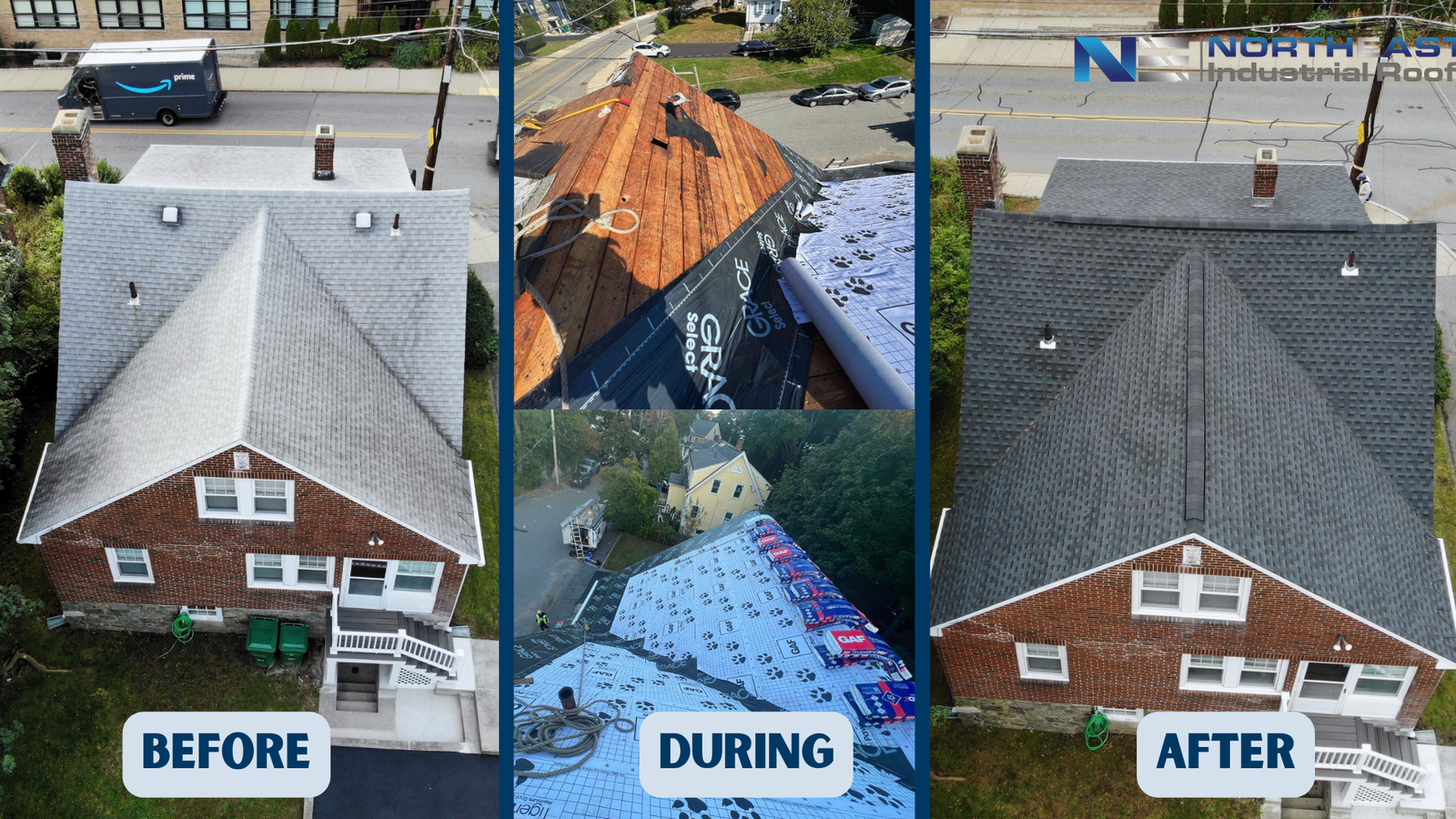 We strive to provide you peace of mind by ensuring superior customer service and industry-leading warranties that protect your investment for years to come.
Our multi-unit roofing specialists are committed to performing the thorough planning that is required prior to the start of your roofing project. These expert roofers understand that a successful large-scale endeavor requires meticulous project management as well as a team that possesses the drive and skill to perform the job at a high level of quality and with maximum efficiency.
What you won't receive from our team are broken promises or lame excuses. We pride our team on keeping our promises, adhering to schedules and providing value to every project we take on.
Northeast Industrial Roof has earned a reputation as Boston's premier commercial roofing contractor for our attention to detail, dedication to delivering quality commercial roofing services and utilizing the best roofing materials available on the market. Our commercial roofing team is also committed to providing our customers with: Accountability, Communication, Consideration, Cost Efficiency and Safety.

Accountability: We believe in transparency and steadfastly deliver on our promises, whether it's a price quote, project timeline or a commitment to our high standards for quality.

Communication: You'll always be up to date on the progress of your commercial roofing project and we're happy to answer all of your questions.

Consideration: We know that the noise of a roofing project can be disruptive to your work and your tenants, so we take steps to minimize the disruptions caused by construction noises. We're also vigilant about managing the roofing debris, tools and materials so that life can continue as normal during the project.

Cost efficiency: We strive to complete your project within budget and on deadline while providing top-quality results.

Safety: Northeast Industrial Roof is diligent about the safety of our employees and customers. Our roofers are safety-trained and always utilize the proper PPE and fall protection.
Founded in 2013, Northeast Industrial Roof has an A+ rating from the Better Business Bureau, is a GAF-Certified™ installer, and has 5-star ratings on Google, Birdeye, Yelp and more. When you need quality roofing services for your multi-unit, Northeast Industrial Roof is the best choice.