All-In-One Roofing Watertown MA Contractors: Adaptable Rooofing Solutions for Any Project
Welcome to Northeast Industrial Roof, your trusted roofing Watertown MA contractors!  We take pride in offering adaptable and comprehensive roofing Watertown MA solutions for any project you have in mind. Whether it's a residential haven, a bustling commercial or an industrial space, our team of skilled roofing Watertown MA professionals is equipped to handle all your roofing Watertown MA needs with precision and expertise. 
With years of experience and a commitment to excellence, we stand out as a reliable name in the roofing industry, catering to the diverse requirements of our clients in Watertown MA. From roof installations and repairs to maintenance and replacements, we have you covered every step of the way.
Get Your Free Watertown MA Roofing Estimate: Call (781) 874-0248  Now!
Top-Notch Residential Roofing Watertown MA Services: Elevating Homes with Excellence
Your home is your sanctuary, and it deserves a durable and dependable roof to shield it from the elements. Northeast Industrial Roof is the beacon of trust for residential roofing Watertown MA. With an extensive array of high-quality residential roofing solutions, such as Shingle Roofing, EPDM Rubber Roofing, Metal Roofing, Slate Roofing, and more, we cater to various architectural styles and budgets.
Our roofing Watertown MA experts will guide you through the options, ensuring your chosen roofing material enhances your home's curb appeal. And it doesn't end there – we also offer Gutter Installation and Skylight Installation services to divert water from your home's foundation and brighten up living spaces, making your home more energy-efficient.
Elevating Watertown MA's Commercial-Industrial Roofing Services: Excellence in Every Project
At Northeast Industrial Roof, we pride ourselves on being a reliable and trustworthy name in the roofing industry. Our highly skilled team of 
roofing Watertown MA
experts is committed to crafting tailored roofing solutions for commercial and industrial properties in Watertown MA. Whether it's 
EPDM Roofing
, 
TPO roofing
, 
PVC roofing
, 
Green roofs
, 
Metal roofs
, waterproofing, coatings, or other roofing services, we possess the knowledge and resources to handle every aspect with precision and care.
But that's not all! We go
beyond the ordinary to provide snow removal, condo roofing, roof curbs and skylights, solar energy systems, 
cool roof technology
, 
single-ply roofing
, and 
roof insulation
 services. We understand that each property is unique, and our personalized approach ensures that your roofing Watertown MA solution perfectly aligns with your specific needs and preferences.
Dependable Roofing Maintenance in Watertown, MA: Keeping Your Roof Reliable
Regular roof maintenance is key to prolonging the lifespan of your commercial or industrial roof. At Northeast Industrial Roof, our comprehensive roof maintenance services in Watertown MA are designed to keep your roof in optimal condition throughout its service life. Through routine inspections and proactive measures, we identify and address signs of wear and tear, safeguarding your investment for years to come.
With our trusted roofing maintenance services, you can have peace of mind knowing that your roof is being well-cared for by experienced roofing Watertown MA  professionals. Don't overlook the importance of regular roof maintenance – it is the key to avoiding costly repairs and ensuring the long-lasting performance of your roof. Trust Northeast Industrial Roof for all your roof maintenance needs in Watertown, MA.
Expert Roofing Repair Blitz in Watertown MA: Swift Fixes You Can Trust
Roofing issues can be unexpected and troubling, but worry not! Northeast Industrial Roof is dedicated to providing swift and efficient roof repair services for both commercial and residential properties in Watertown MA. Our skilled roof repair contractors conduct meticulous inspections to identify underlying issues, fixing leaks, repairing damaged shingles, or addressing storm damage with precision and expertise, ensuring your roof is in top-notch condition.
Commercial Roofing Installation Contractors: Delivering Flawless Results and Aesthetic Excellence
First impressions matter, and a visually appealing roof can leave a lasting one on clients and visitors to your commercial property. At Northeast Industrial Roof, we specialize in premium commercial roofing installations that elevate your Watertown MA property to new heights. Our skilled roofing Watertown MA professionals work closely with you, offering a wide selection of roofing materials, styles, and colors to ensure your roofing Watertown MA solution seamlessly aligns with your property's design.
Trusted Roofing Watertown MA Contractors: Experts in Residential Roof Replacements
A smooth and successful residential roof replacement project requires the right contractor. Northeast Industrial Roof is the premier residential roofing contractor in Watertown MA, providing top-quality solutions. Choose from various roofing materials, and our skilled team ensures a flawless installation, fortifying your home's protection and beauty, complying with local codes and adhering to industry best practices.
Upgrade Your Roof with Confidence: 5 Must-Haves for a Picture-Perfect Roof Replacement!
Trendy Materials, Timeless Charm:

Elevate your home with our vast selection of roofing materials, from classic asphalt shingles to sleek metal options, promising both protection and allure.

Sherlock-Style Roof Inspections:

Before we lift a single shingle, our expert team meticulously uncovers any hidden issues that need fixing – leaving no stone unturned for a rock-solid result.

Step-by-Step Transparency:

You'll never be in the dark! We keep you informed every step of the way, from the initial assessment to the show-stopping installation – no secrets, just satisfaction.

Building Codes, No Compromises:

We don't cut corners when it comes to compliance. Rest easy knowing your new roof meets all local building codes, keeping your peace of mind intact.

Quality Craftsmanship, Guaranteed:

Say goodbye to worries with our top-notch materials and industry-best practices. The result? A roof that stands the test of time and leaves you beaming with pride.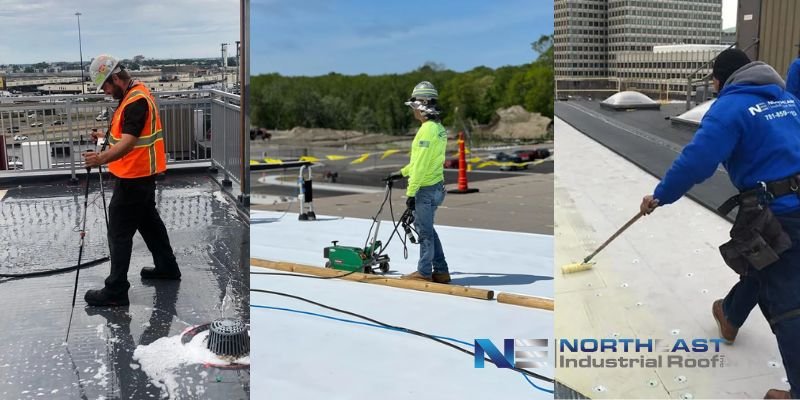 Crown Your Roof with Excellence – Northeast Industrial Roof: Your Trusted Watertown MA Roofing Pros!
Choose excellence for your Watertown MA roofing needs! Northeast Industrial Roof stands tall as the premier choice, authorized by 
GAF Master Elite Roofing
, Carlisle, Sika, Certainteed, and more. With top-tier materials and tailored services prioritize your safety and property security with our esteemed Technician Seal of Safety, authorized contractor status, and premium materials.
Northeast Industrial Roof 
is
accredited by the BBB
and has earned many
5-star reviews
over the years. We are committed to providing a 5-star service. That's what keeps our customers satisfied year after year. Feel free to
browse our portfolio
of completed roof contracts.
Contact us today to discuss your requirements, and together, we'll ensure the secure and prosperous future of your property. Don't settle for anything less than regal – choose Northeast Industrial Roof! 
If any questions come up through the entire process you can count on us to be there. Follow us on 
Facebook
. Check us out on 
Yelp
.
Northeast Industrial Roof is standing by to answer any commercial roofing questions you may have.