May 12th, 2023
Your property roof is one of the most important parts of the structure and is often neglected when it comes to maintenance and repairs. Below, we will address what possible damages your roof may have, what causes them, and how to prevent these damages with our services.
There are several possible causes of damage to your roof
Below we list three main factors that can damage your roof over time besides lack of maintenance:
1- Weather conditions
The roof can suffer considerable damage due to natural elements such as strong winds that can rip off shingles, heavy rains that can cause infiltration and water leaks inside your building, snow that accumulates and overloads the structure, and hail that can puncture and even break the shingles.
2- Trees
Trees pose a risk to the integrity of the roof, especially if the branches are overhanging the structure or fall during a storm, they can cause cracks, holes, breaks or other forms of physical damage to the roof structure.
3- Water leaks
Water leaks represent a threat to the roof, as infiltration can damage the roof structure, cause damage to thermal insulation, paint and other ceiling materials, as well as promote the appearance of mold and other unhealthy conditions, harmful to your health and your family's.
How to prevent these possible damages with a Preventive Maintenance service?
Our Preventive Maintenance service on your roof involves a series of scheduled and planned activities, such as regular inspections, cleaning, and preventive repairs. These activities aim to prevent future problems on the roof, identifying and correcting minor issues before they turn into major problems that may require more expensive and time-consuming repairs.
The first step: Inspection!
Northeast Industrial Roof performs a thorough inspection of your roof to assess the overall condition of the structure and identify any existing problems. Our qualified professionals use specialized equipment and advanced techniques to carefully examine every part of the roof, including tiles, gutters, flashings, chimneys and other elements.
Repair service is also a solution!
Based on the inspection, we develop a custom repair plan that addresses the specific issues identified during the inspection. This may include replacing damaged or broken tiles, sealing water leaks, cleaning gutters and flashings, among other services. Our team uses only high-quality materials and appropriate tools for each type of repair, ensuring that the repairs are sturdy and reliable.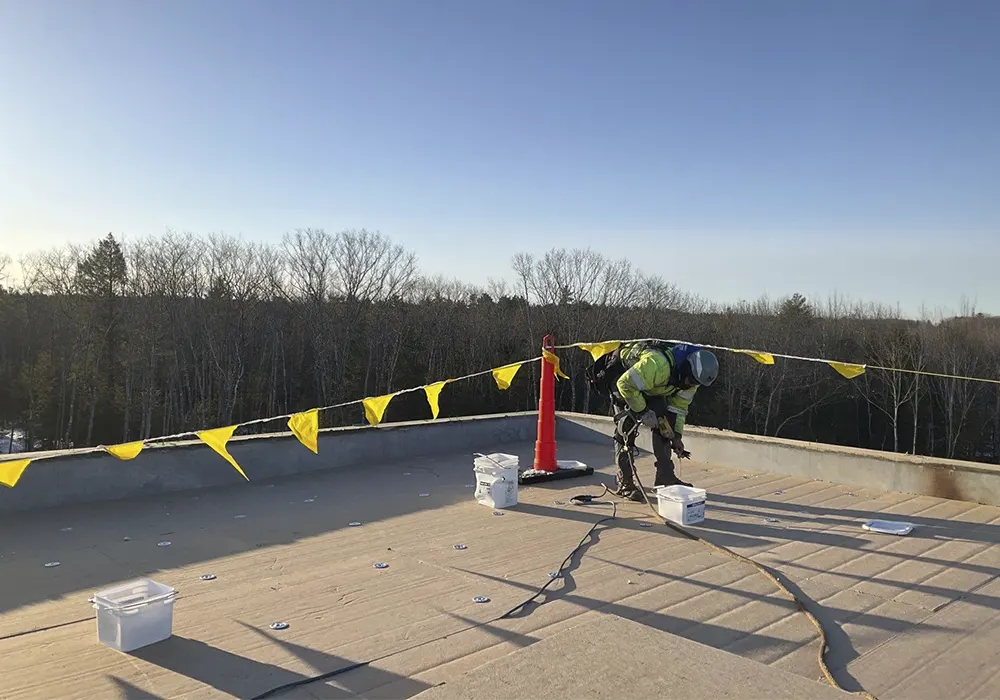 Northeast Industrial Roof: the perfect choice to take care of your roof!
By choosing our services to take care of your roofs, you can be sure that you are working with a reliable and responsible company. We strive every day to provide you with the best possible service and are always available to answer all your questions and concerns. You will be happy, safe and secure knowing that your roofs are in good hands!
Conclusion
In summary, your roof is an essential part of your property and can be damaged by various external factors, such as weather conditions, trees and water leaks. Lack of maintenance can lead to bigger and more expensive problems, which is why we offer preventative maintenance, inspections and repairs to prevent issues with your roof. By choosing our services, you can have the peace of mind knowing that your roofs are in good hands. Contact us to find out how we can help you take care of your roofs and ensure the safety and satisfaction of your family and property.