Questions to Ask a Roofer Before Hiring
November 20th, 2022
Medford, MA is prone to severe weather, which can take a toll on your roof. That's why it's important to regularly inspect your roof and make repairs as needed. If you're in the market for a new roof, it's essential to find a reputable contractor who will do the job right. Here are some questions to ask a potential roofer before hiring:
How long have you been in business?
Are you licensed and insured?
Do you have any references?
What type of warranty do you offer?
How much experience do you have with Medford weather conditions?
Answering these questions will help you narrow down your options and find the best roofers in Medford for the job. It's important to find a contractor who has experience dealing with those conditions. With the right contractor, you can rest assured that your roof will be repaired or replaced properly.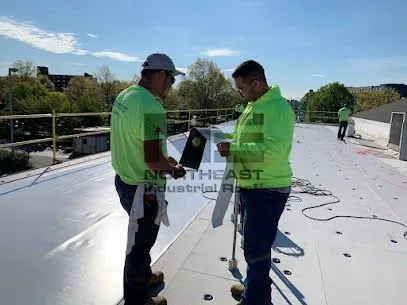 Do You Work With Homeowner's Insurance to File Claims?
From high winds and heavy rain to snow and ice, our roofs take a beating throughout the year. As a result, it's important to have a reliable roofing company that you can trust to keep your home in Medford, MA protected. One of the best ways to find a reputable roofing company is to ask your friends and family for recommendations. Once you've found a few companies, be sure to research them online to read reviews and compare pricing. When you're ready to choose a company, be sure to ask them about their policies for filing insurance claims. In the event that your roof is damaged by severe weather, you'll want to be sure that your insurance company will cover the cost of repairs or replacement. By working with a reputable roofing company, you can rest assured that your home will be well-protected against the elements.
Do You Have a Current License to Do this Work in My Area?
From a historic city with a lot of character- colonial-era homes to modern apartment buildings, there is a roofing contractor for every type of roof. However, not all roofing contractors are created equal. In order to ensure that your roof is in good hands, be sure to select a roofing contractor who has a current license to work in your area. This will ensure that they are up-to-date on the latest Medford building codes and regulations. Furthermore, a licensed roofing contractor will have the necessary insurance to protect you and your home in the event of an accident. So when you're looking for a roofing contractor, be sure to choose one who is licensed and insured. You'll be glad you did!
What Types of Insurance Do You Have, and What is the Coverage?
For an old city, many of its buildings require regular maintenance and repair, and roofing contractors play a vital role in keeping the city's infrastructure in good condition. When hiring a roofing contractor, it is important to ask about the type of insurance they have and the coverage. This will ensure that you are protected in case of any damage to your property during the course of the work, typically insured against liability and property damage, but it is always best to check with your contractor to be sure.
Can You Give Me Two or Three References To Check?
Any reputable roofing contractor should be able to give you at least two or three references to check. Ideally, these should be people who have used the contractor's services within the past year or so. If possible, try to get in touch with references who have had similar roofing jobs done. This will give you a better sense of what to expect from the contractor. When contacting references, be sure to ask about the quality of the work, the timeliness of the job, and whether or not the price was fair. Also, find out if there were any problems with communication or unexpected surprises during the course of the project. By taking the time to check references, you can avoid hiring a roofing contractor who is not up to the task.
Do You Offer a Free On-Site Inspection?
A good roofing contractor will offer a free on-site inspection to make sure that your roof is in good condition and to identify any potential problems. This way, you can rest assured that your roof is in good shape and that you won't have to worry about it leaking or collapsing. Contact a roofing contractor today to schedule a free on-site inspection.
Do You Take Photos During the Inspection and After Completing the Project?
Any consumer who has hired a roofing contractor knows the importance of getting the job done right. After all, your roof is one of the most important parts of your home, and it needs to be in top condition to protect you and your family from the elements. That's why it's so important to choose a roofing contractor who will take the time to inspect your roof properly and then complete the project to your satisfaction. One way to make sure that you're getting a quality roofing job is to ask the contractor to take photos during the inspection and after the project is completed. This way, you can see for yourself that the job was done right and that your new roof is in good condition. Be sure to ask about their policy on taking photos during inspections and after projects. It's a simple request that can ensure that you're getting a quality roofing job.
Is Your Work Covered By Manufacturer Warranty?
Many roofing contractors offer a manufacturer's warranty on their work in addition to any independent warranty they may offer. This coverage is usually for a set period of time, often ranging from one to five years, and it can provide substantial protection for your investment. In the event that something goes wrong with the roofing work during the warranty period, the manufacturer will typically cover the cost of repairs or replacement. In some cases, the warranty may even cover the cost of tearing out and replacing the entire roof. As a result, it is important to carefully review any manufacturer's warranty before hiring a roofing contractor. Doing so can help you to avoid any unexpected expenses down the road.