Somerville's Premier Commercial Roofing
Professional Commercial Roofing Services in Somerville, MA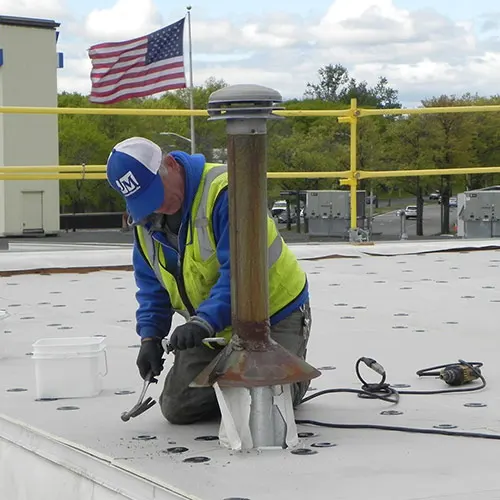 Commercial & Industrial Roof Installation, Reroof and Roof Repair Contractor Serving Somerville, MA
With combined decades of experience in the flat roofing industry, Northeast Industrial Roof is the clear choice for roofing services in the Greater Boston area. We're committed to using our training and experience to provide our customers with roofing services that fit your timeline and budget expectations as well as doing our best to minimize workday interruptions during the roofing process.

Our team provides new roof installation, roof replacement, and roof repair services in New England's commercial, industrial and multi-family residential markets. Each member of our team has a deep understanding of the requirements and challenges related to large, flat roofs and we are well-versed in meeting these requirements and solving problems to ensure your facility is covered with a strong, safe roof.
New England's Reliable Roofers
We're experts in commercial roof solutions of all sizes and scopes. Our training and experience has allowed us to become familiar with – and find solutions to – almost every possible roof-related quandary, and our skills continue to compound with every project we complete.

Our roofers are punctual, reliable and responsible. We'll always arrive on time, utilize the proper safety measures and keep a clean job site at all times. We respect your property and your people and will do whatever it takes to ensure your 100% satisfaction with the roofing services that we provide.

We offer the full range of commercial, industrial and multifamily residential roofing services, including:
We install, repair and service the following types of commercial roofs:
Somerville, MA Flat Roof Specialists
Northeast Industrial Roof specializes in installing, repairing and maintaining flat roofs, including TPO, PVC, EPDM, metal, single-ply, and more. We can evaluate your existing roof, answer your questions and ensure that you get the best results from your investment.
Commercial Roofing Services in Somerville, MA
At Northeast industrial Roof, we stand behind our work, our professionalism and our credentials because our customers do. We welcome feedback and are consistently seeking ways to learn more and improve upon our already-stellar reputation throughout Massachusetts.

We know that good help can be hard to find. That's why whether your roof needs repairs, maintenance or total replacement, our roofers are nothing less than thorough, professional and committed to providing the highest quality of service. From helping you identify the best roofing materials for your roof to erasing all traces of our presence when the job is complete, Northeast Industrial Roof is Somerville's preferred roofing contractor.